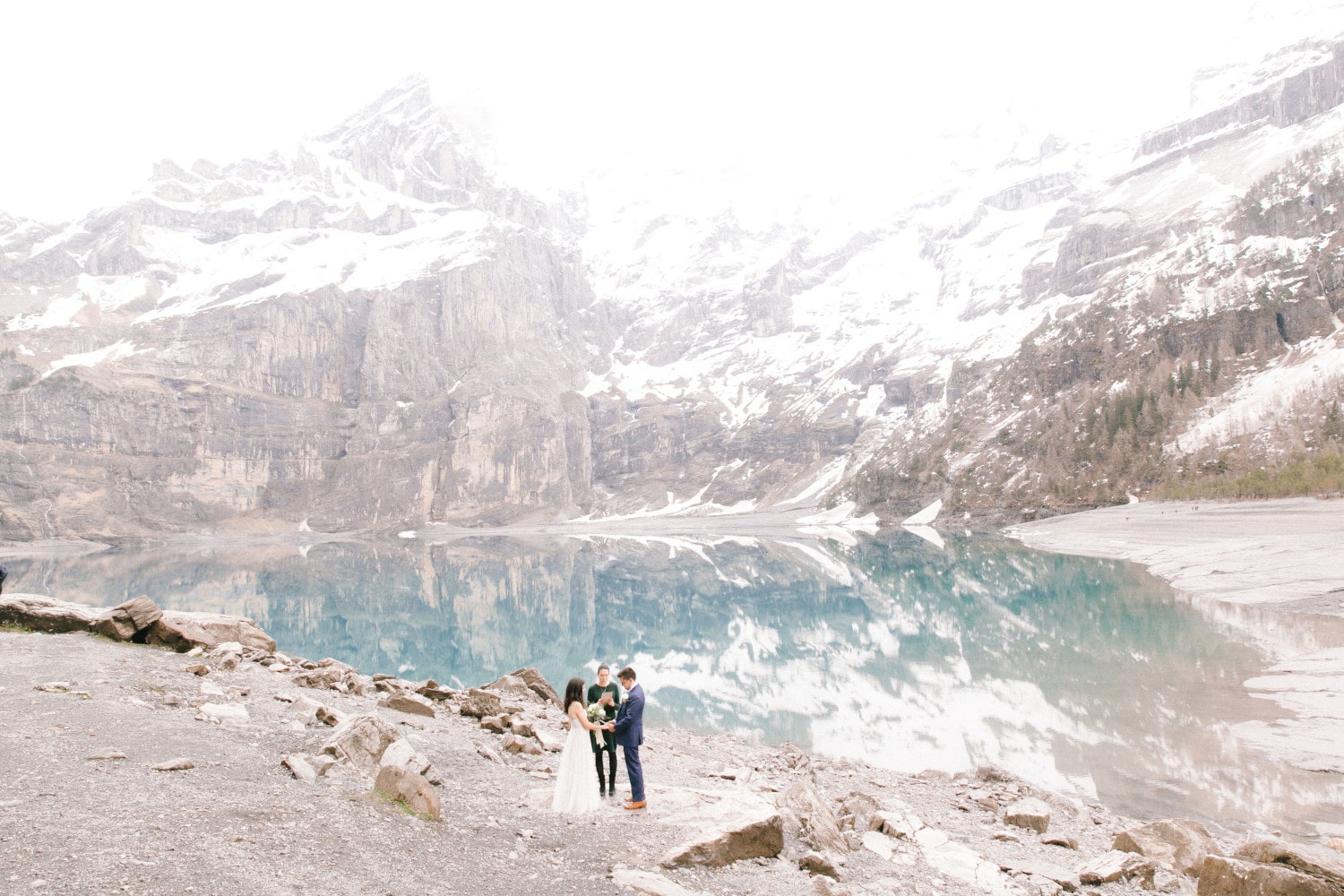 For many foreigners, Switzerland is a country full of promises. And, true enough, Helvetia features quite a few assets, chief amongst them are its breathtaking landscapes. Known for its legendary discretion, its refinement and the high quality of its services, Switzerland is a preferred place to tie the knot for many a couple coming from around the world, either you want to have an elopement or an intimate secular wedding.
I am very attuned to the desires of every couple to help them select a conventionally dreamy and yet exclusive place. The atmosphere is as important as the beauty of the place in question. This is why I take the time to really figure out the desires of my love birds by tuning in to their dreams and understanding the kind of ambiance they are looking for to say "I do".
And then there are the most beautiful spots for an elopement Switzerland. Places that may not be out-there but that will remain all time classics.
I selected my favorite ones and share why they are so special to me.
Lavaux
A UNESCO World Heritage Site, the wine region of Lavaux is a gem found in French-speaking Switzerland.
With its terraced vineyards overlooking Lake Geneva, which stretches further than the eye can see, amidst the mountains, this location is picturesque and offers tons of intimate spots to tie the knot.
Amidst the vineyards, on the shore of the lake, on a boat, on a secret beach or on rocks: possibilities are endless and will delight the hedonists among us.
After the ceremony, you will savor a local wine with a breathtaking view of the Lake Geneva area.
Montreux & Riviera
Very famous for its Jazz Festival, Montreux is a world-renowned city nestled between steep hills and the lakeside.
Why not celebrating your love on a boat? The Swiss Riviera allows tons of possibilities for a an elegant yet laid-back ceremony.
Lake Geneva offers a unique micro climate to this region where palm trees and "Belle Epoque" atmosphere charmingly meet.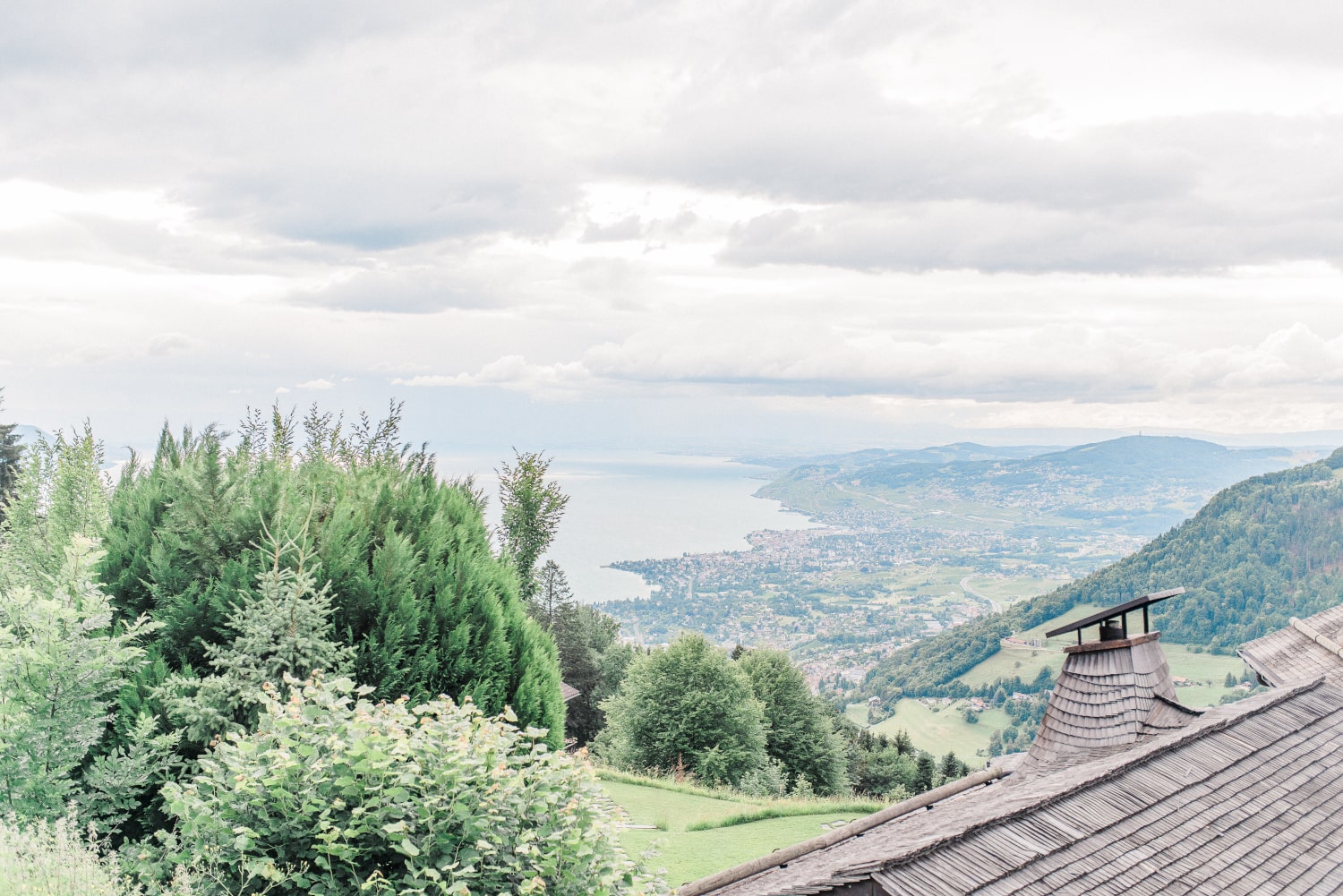 Oeschinensee
This is definitely one of the most typical landscapes that come to mind when picturing Switzerland. With its undertones of blue and turquoise, nestled between towering mountains and offering a spectacular clear view, this lake is a favorite among foreigners who want to get hitched in nature.
And it's understandable. The ride to get there is already a poetic experience in itself. Aboard a cable car, you will graze upon flocks of sheets peacefully grazing while you're going up. And once you've reached the top of the mountain, you will breathe clean air and enjoy a scenery worthy of Heidi.
The location may be popular among tourists, but "secret spots" perfect for an intimate ceremony are plenty. Whichever side of the lake you choose, each features its own character, and have no doubt that I will find the one for your pure Helvetic romance.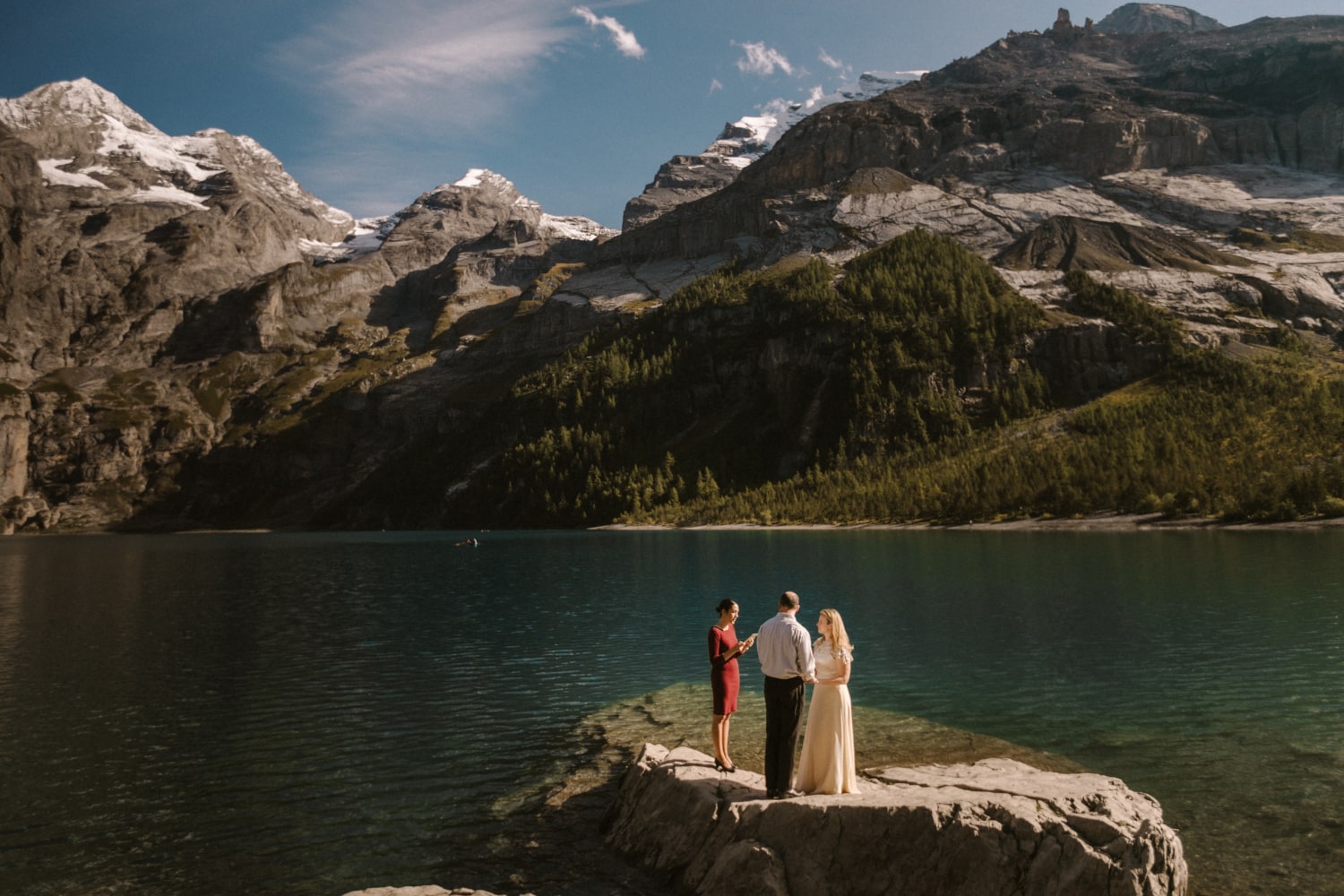 Blausee
Not far from Oeschinen Lake, another famous lake can be found: Blausee. This mystical scenery, with its emerald colored lake and densely wooded forest, will bewitch the most romantic lovers among us.
Located in the middle of a nature reserve, with a small hotel offering all the comfort one can dream of for their wedding night and numerous trails in and from the park, Blausee is an excellent place to tie the knot in a very intimate way.
I will suggest the best time of year to celebrate your union in the most intimate setting.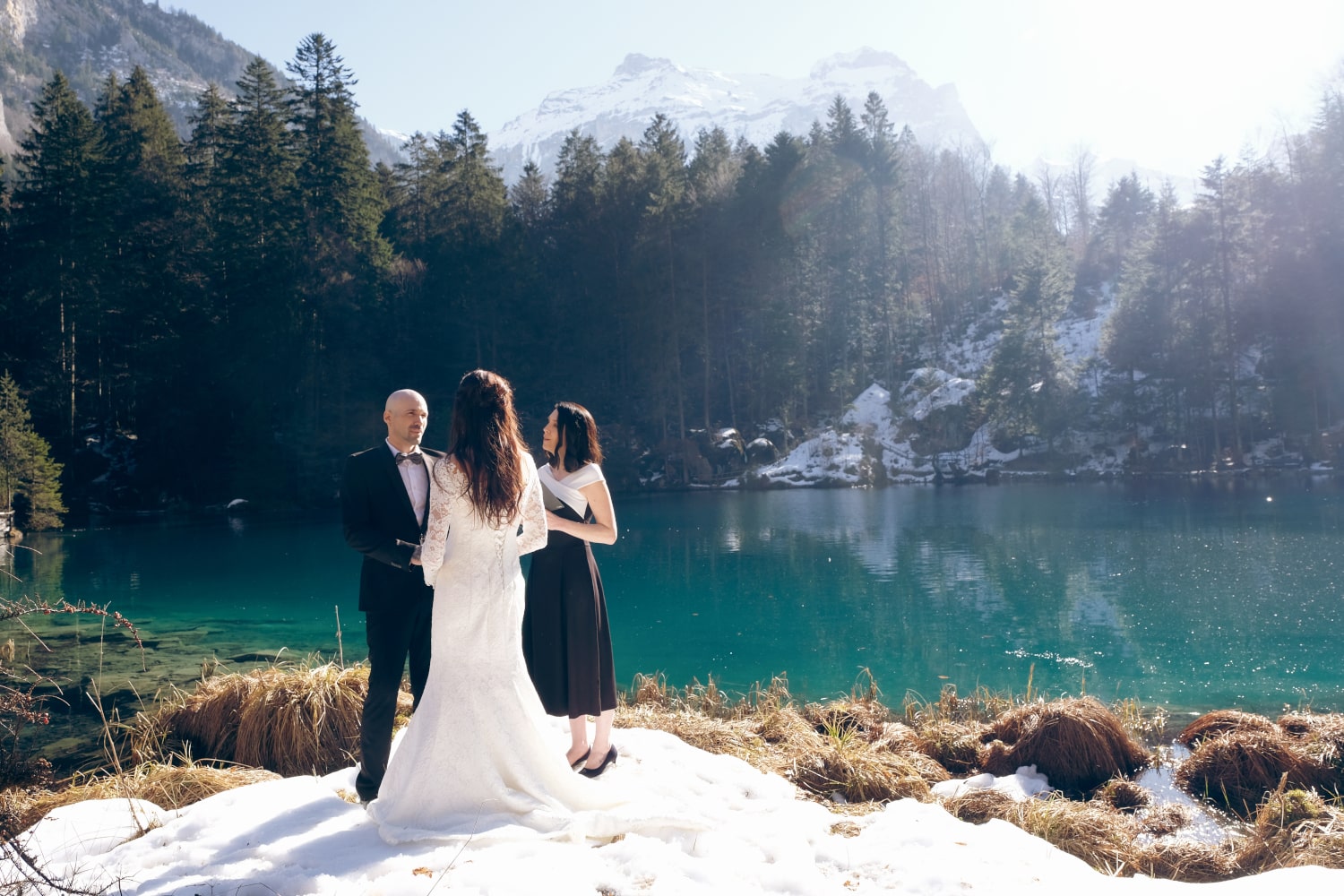 Zermatt
Here is one of the emblems of Switzerland: Zermatt and its famous Matterhorn. Summer or winter, this location is ideal for an adventurous or otherworldly ceremony.
At the top of the ski slopes, on the shore of a lake or on the heated terrace of a charming hotel, possibilities are endless.
In Zermatt, only electric taxis are allowed, ensuring much appreciated clean air and quietness.
At nightfall, the entire village lights up which makes the whole scenery look like it just came out of a fairy tale. The picture would not be complete without a delicious meal. Because Zermatt satisfies your every desire and more!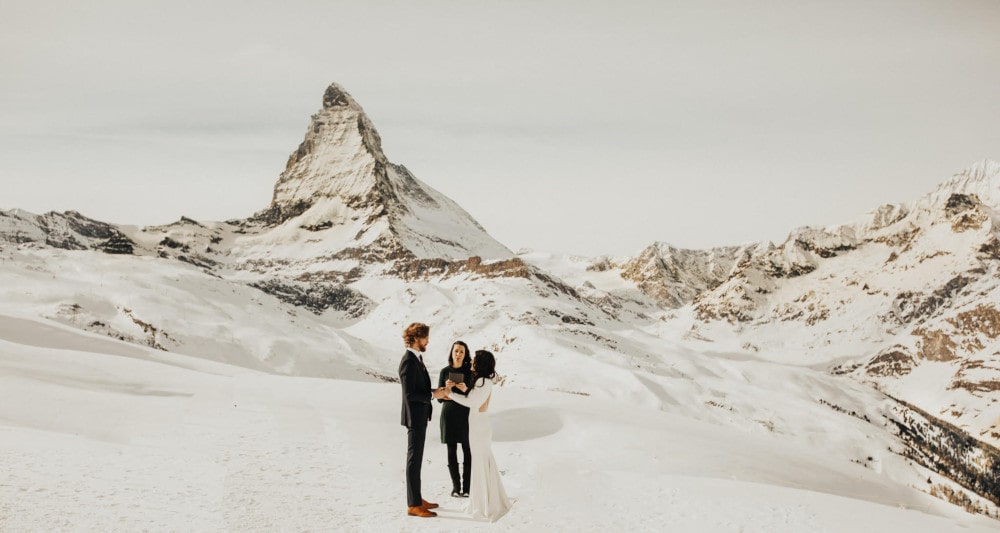 Gstaad
The mountain air and ambiance of Gstaad attract guests from around the world, between a stylish and traditional atmosphere.
Amidst the hills, against the backdrop of majestic mountains in front of a secret lake, you will feel like the only two people in the world. Be aware that you may never want to leave this enchanting place…
Maybe you'll be lucky enough to go back to the village in time to witness the most beautiful sunset on your way.
* If you also consider one of these amazing spots in Switzerland for your elopement or if you want me to help you find another secluded location, contact me so we can start to plan your dream ceremony from here!*