This was a day like no other. I will be forever grateful for being asked to be the celebrant of this amazingly beautiful ceremony. It was an unforgettable day filled with so much love. These are the kind of memories that will last a lifetime.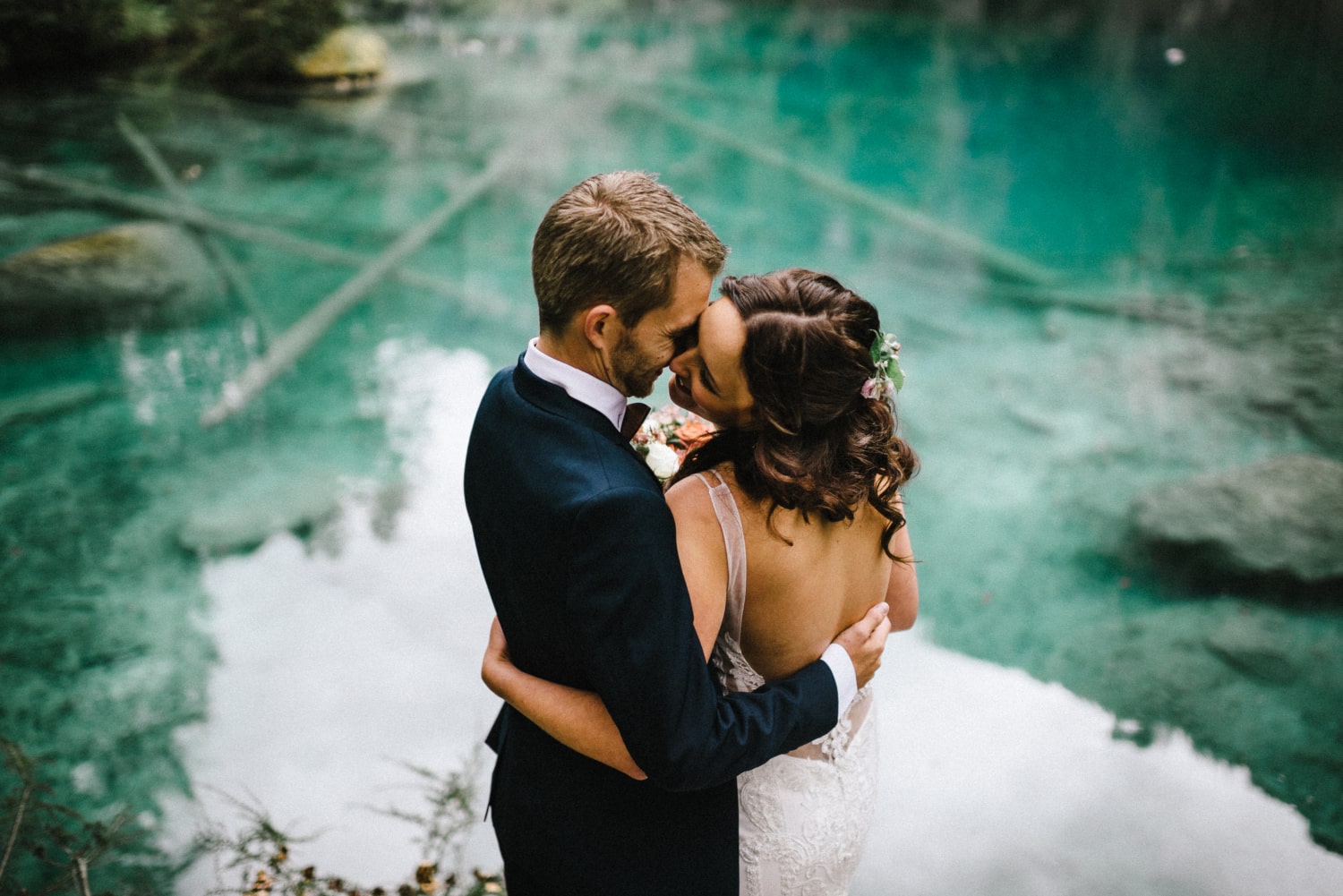 December 12th, 2016: Wedding planner, Laura Dova, contacted me, and asked me to join the team of professionals that were working on Jess and Cory's wedding day. I said yes before she could even finish her sentence. The ceremony was taking place in Blausee, a place I had never been to before but had heard and seen so much about. It is quite honestly one of the most beautiful wedding destinations out there. I hate to say, as a Swiss citizen I have never set foot by this extraordinary Swiss lake, with water so turquoise it could almost look fake. As soon as I found out the wedding would be located there, I knew it would be a magical day.
February 2nd, 2017: As I sit here, writing this article, I realize that it has been a year since I first met Jess and Cory through the amazing technology of Skype. It was 9:00am my time and 7:00pm their time in Australia. It was great. I felt like we were meeting face to face except we were across the world from each other. They told me their love story, and explained their dream of having an elopement in Switzerland – one of their favorite places in the world.
April 16th, 2017: As I arrive at the venue, I get hit with a wave of emotions. This amazing landscape is even more breathtaking in person than it was in pictures – I almost must pinch myself to believe that this is reality. There is something so mysterious, yet dreamlike and magical, about this scenery, with the lake and its surrounding forest. I am beyond lucky to see something so beautiful.
April 17th, 2017: I can feel the pressure building. I feel the nerves, but I know they are just nerves of excitement. The couple is arriving any minute now. I get to know the photographer and the videographer and I'm feeling more relaxed. We are getting ready for their arrival and I am beyond excited to share this special moment with them.
It's difficult to choose photos to show you, as every photo by the talented Stefan Hellberg is absolutely stunning. I could try to describe the ceremony, but the photos tell it all. Here is a selection of photographs that show the beautiful couple and the amazing work that Laura Dova put into this elopement ceremony. And you can find the video at the bottom of this article.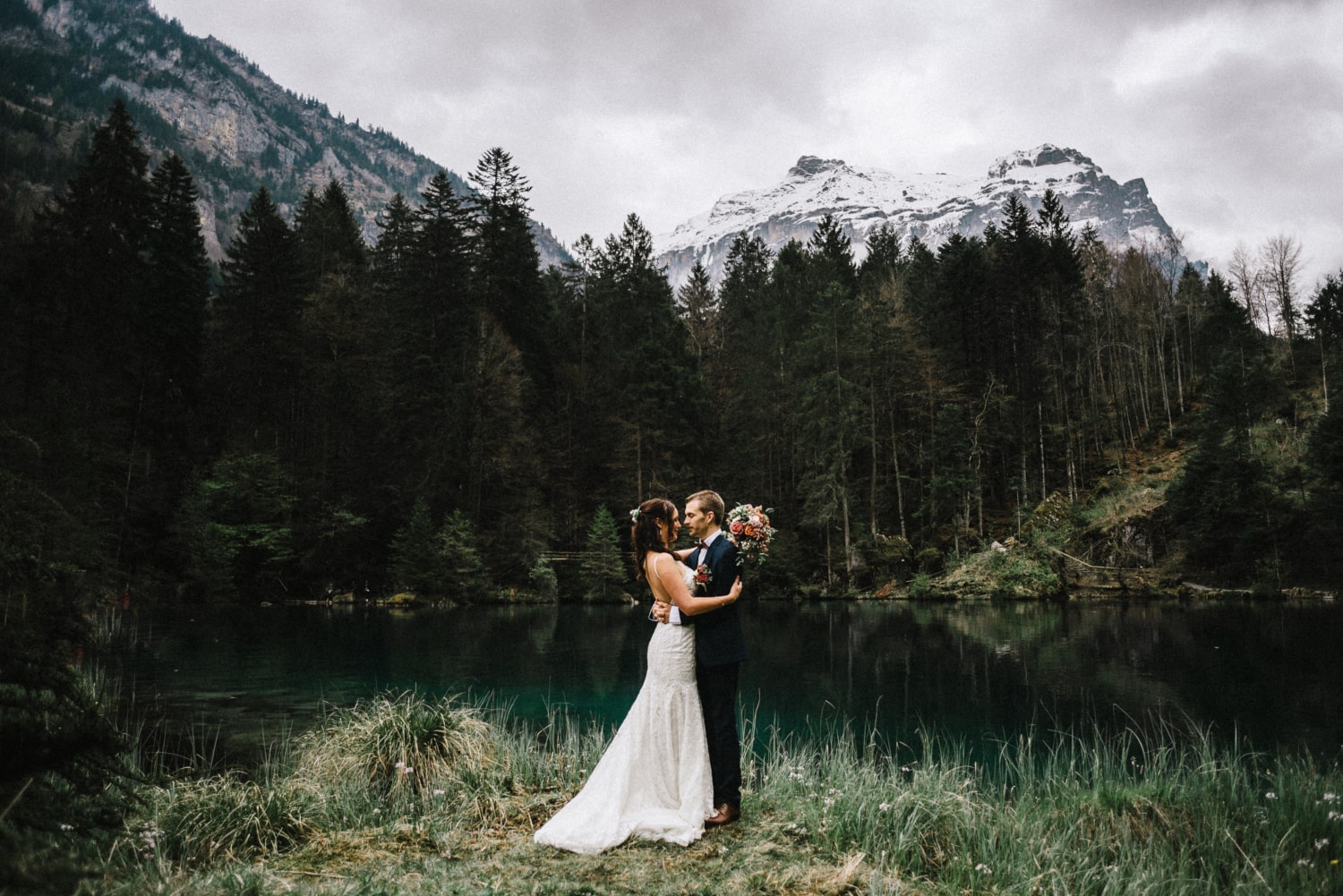 Told from the viewpoint of Laura Dova
"I had an amazing first meeting with Jessica and Cory. They are a young Australian couple who have a crazy love for Switzerland and its mountainous landscapes surrounding the lakes. They contacted me a good year before their wedding date and wanted a ceremony that represented these three words: simplicity, nature, and Switzerland.
The secular ceremony was our starting point, as they wanted to find a location that fit the small intimate ceremony they were looking for. They wanted to be immersed in nature, and away from all civilization, to give a dream-like feeling for themselves and their nine guests.
For the month of April, it was hard to find a location, as many places were still inaccessible due to either snow, or long walks to reach the location that would be impossible with a wedding dress on.
It took us 6 months to find the perfect location at Lake Blausee. In the meantime, we had booked the photographer, the videographer, and the transport.
Blausee, an amazing place
When I contacted Marylin Rebelo, she was overwhelmed with excitement, because, like all people working in the wedding industry, she had always dreamed of working a ceremony in this breathtaking location.
The rest was simple, and the organization went as smoothly as one would hope for. I believe the photos and the video give a clear representation of what this beautiful day entailed with all its elegance, simplicity, and uniqueness. This was the epitome of love.
A perfect evening
For dinner, Jess and Cory wanted a traditional Swiss atmosphere, especially in April where the weather is perfect for a nice cozy evening by the fire.
I recommended the Sunstar Hotel in Wengen and its 'Grillkota' restaurant. This was exactly what they had dreamed about. A small wooden chalet that can accommodate up to fifteen people, nestled in the mountains with spectacular panoramic views.
A big round wooden table in the center of the room, with a raclette oven, perfect for the classic Swiss evening Jess and Cory were looking for."
This day was simple, yet absolutely magical!
What they said
(READ THEIR FUL TESTIMONIAL HERE)