A humanist approach above all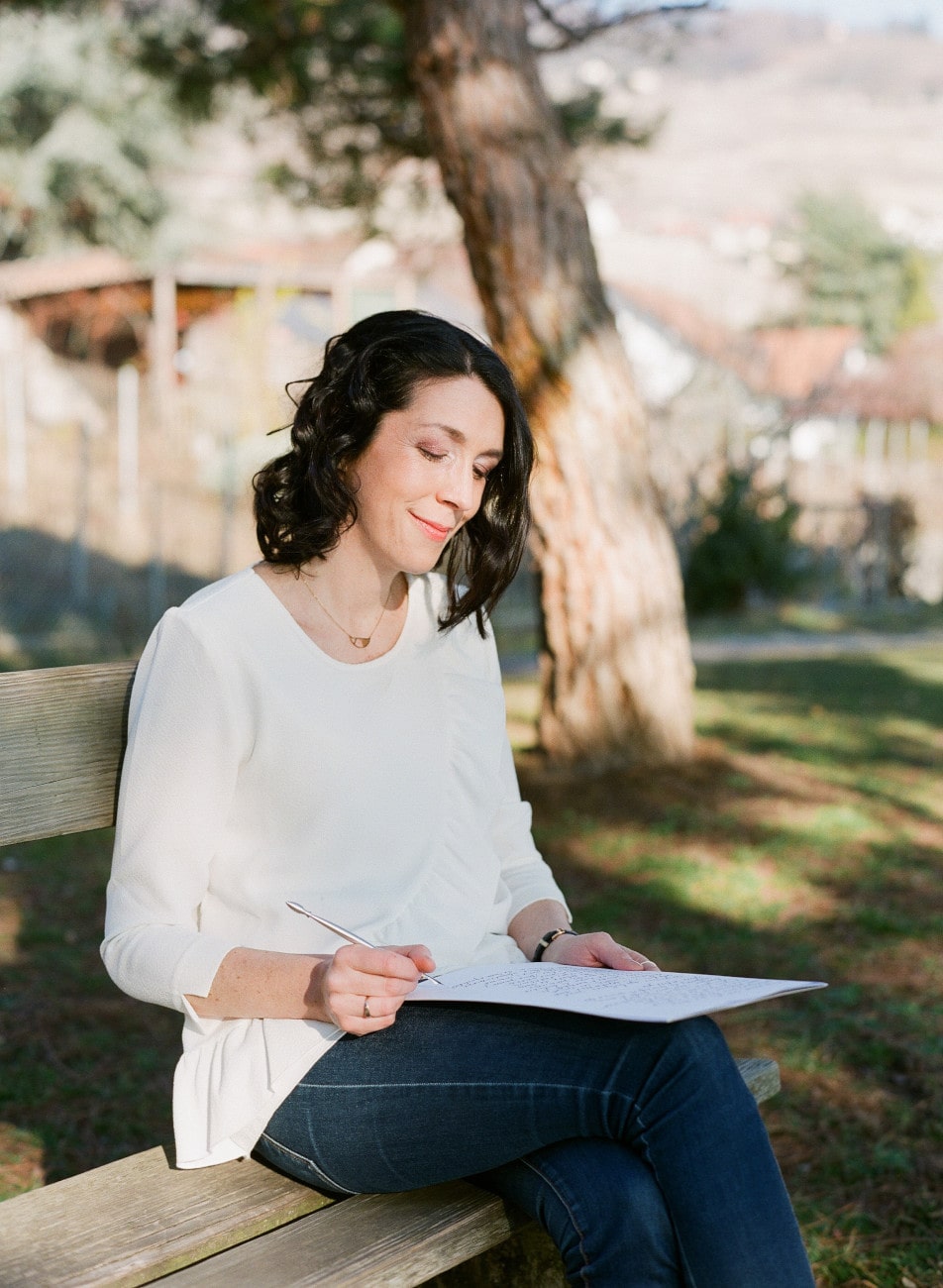 I consider myself to be someone who accompanies and who creates. The terms "officiant", "celebrant" or "master of secular ceremonies" are often used to describe my profession. They don't really reflect all of my work but mainly illustrate its outcome.
In my view it all starts with a meaningful guidance. One that prepares you for your marriage in the sense of your marital life and not just the wedding day. One that takes the time to think about your story and connect to it. Thus leading to the creation of an extraordinary moment enhanced by carefully chosen words and conveyed emotions to be always cherished by you and your loved ones.
I'm looking forward to writing your most beautiful story!
A spark around my own wedding
When the need to find meaning meets the need to offer it, the stars line up.
After years working in an environment where image and profitability are the only measures of success, I lost track of myself. My core values and aspirations were disregarded and just waited to be revived.
In deciding to create our wedding ceremony in 2013, I was triggered! My husband and I immersed ourselves in many topics, like those mentioned here. I defined the meaning of our commitment by expressing the right words. And the magic happened.
After our wedding, I rediscovered my passion for writing, and my love for putting thoughts and memories into beautiful words.
Meanwhile, I started a higher education course and chose to write my thesis on the subject of secular ceremonies. Once I had my degree, my sole desire was to continue in this direction. I started my company and very quickly, I felt entirely fulfilled.
In 2016, I became a mother to a little girl. A huge source of inspiration that turned my world upside down, with powerful feelings. I deeply questioned myself about my vision of parenthood and what this birth brought to our lives.
The idea of realizing a naming ceremony (secular baptism) seemed obvious to me. Ever since, I also propose to create and celebrate these magnificent ceremonies.
What I love
My family
I would have never imagined myself as a wife and Mom. And then I met my now-husband who definitely changed my life!
Words
I have been writing since the age of 12. I find something so special about making emotions with words.
Animals and nature
I try to live a very eco-friendly life and fight against animal cruelty every day. I've been vegetarian for 15 years.
Adventure
I have traveled to over 30 countries, most of which have been solo backpacking trips in remote areas.
Music
In my headphones: rock, electro, soul. My father (among the stars now) was a musician, which helped me develop my keen ear for music.
Timeless design
Vintage furniture, clothes, antiques and old movies. In my free time, I like to browse flea markets to give a new life to old things.
Giving BACK
I am ever grateful to be able to live from my passion. It's a huge opportunity that I cherish every single day. To me, receiving and giving are one.
I felt the need to contribute to saving the planet by regularly donating a part of my income to an association. I had to focus on one, among those I have supported for years. My passion for animals and nature led me to choose the most tenacious ocean defense NGO in the world: SEA SHEPHERD. Beyond having a profound admiration for its founder, Paul Watson, I am convinced that if the life under the oceans dies, there will be no more life on this Earth.
I am very pleased to invite you to take part in this commitment and proud to contribute to a better world.