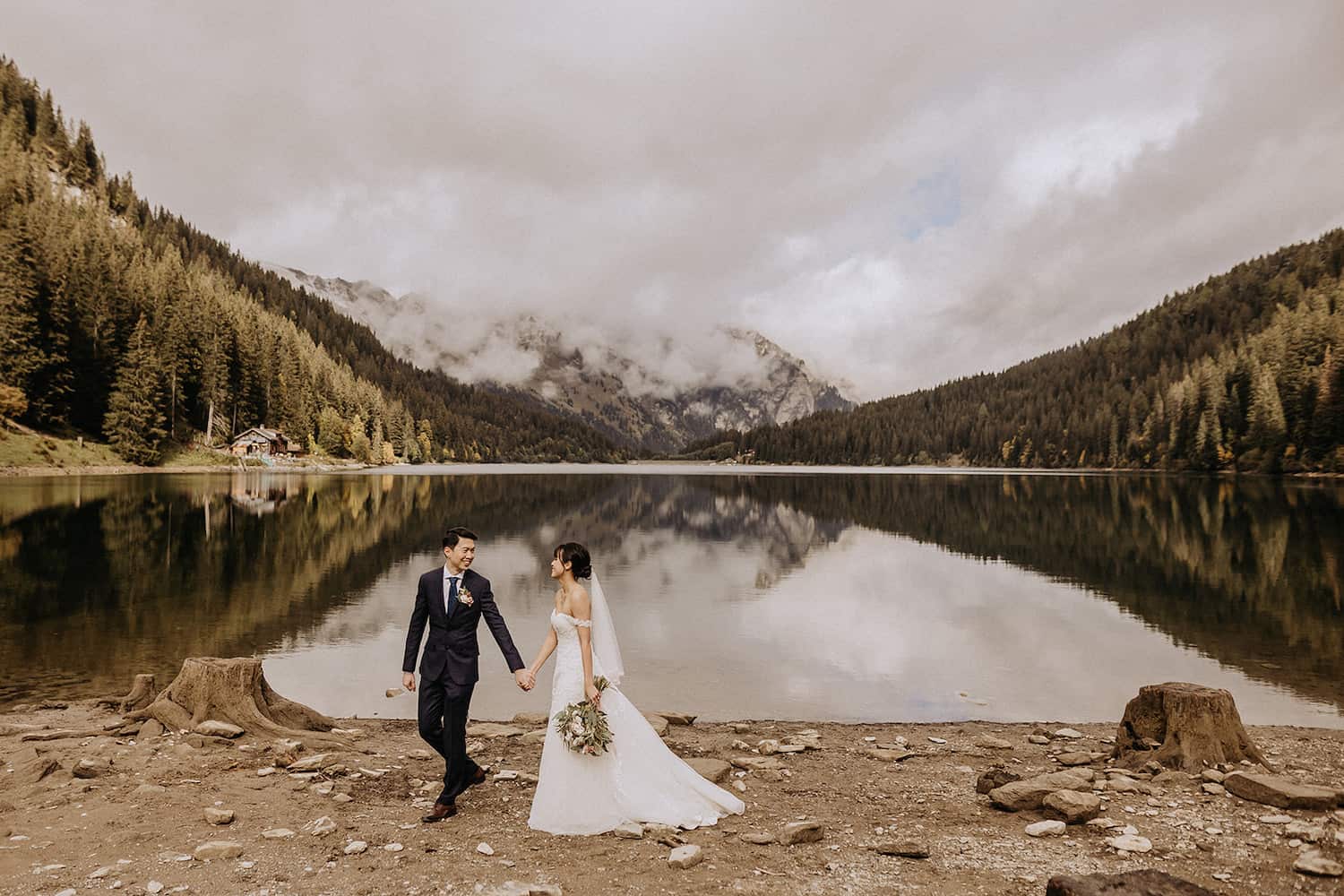 Is there anything more intimate and romantic than an autumn elopement in Gstaad ? This mountainous Switzerland area is among the most beautiful in the country, and there are countless hidden spots that make a beautiful spot to say "I Do." Eloping in Gstaad is an absolute dream, and that's why I was so excited to see Carrie and Yong Wei committing to each other in this wonderful location.
I still remember the first time I spoke with Carrie and Yong Wei. The couple were so warm and kind over the phone, and I felt inspired by their close bond and their intentional love story, a story all about union, protection, and devotion.
It was so special to be a part of Carrie and Yong Wei's Gstaad elopement.
"I want to protect this girl for the rest of my life."
Carrie and Yong Wei first met through an online singing platform. The two met and talked online for a year before Yong Wei drove four hours to the southern part of Malaysia to meet Carrie in person for the first time.
From the first moment Yong Wei met Carrie, he had this instant, powerful feeling. "I want to protect this girl for the rest of my life," Yong Wei explained. He never understood where that feeling came from, but it just appeared out of the blue one day. It didn't take long for Yong Wei to fall in love with Carrie, and he wanted to protect his love. "I can take a bullet for you," he told her.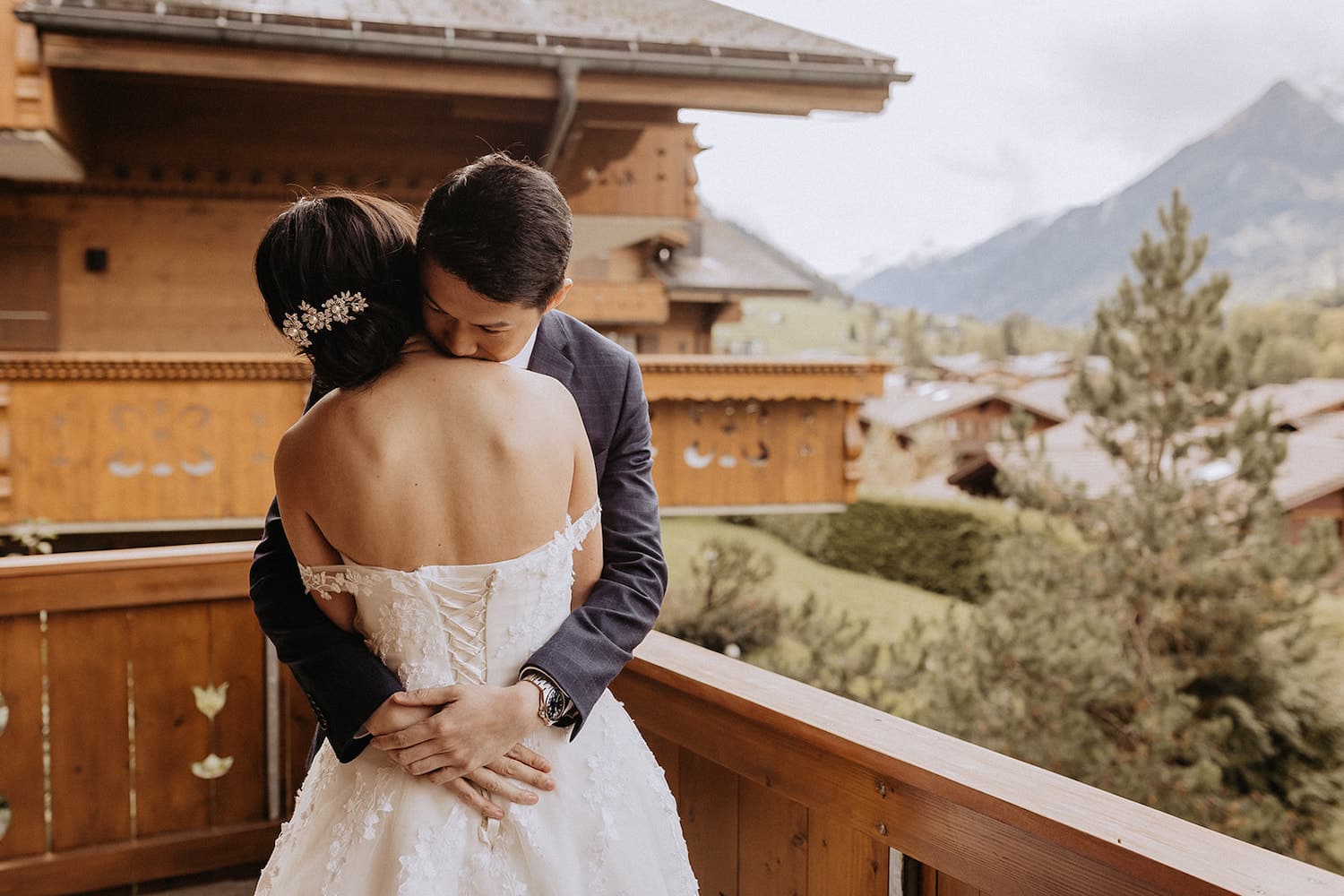 Carrie is the eldest child in her family, and she always hoped to find a partner that would take care of her and care for her. When she met Yong Wei, she immediately felt a strong sense of security and protection just from hearing his voice.
"Yong Wei gives me the feeling that he can protect me," Carrie explained. "He manages to comfort me in different circumstances and teaches me more about this world."
Yong Wei proposed to Carrie on May 3, 2019, just one day before Carrie's birthday. The pair were on a trip to the beautiful island of Cebu in the Philippines to celebrate Carrie's birthday. Little did she know that Yong Wei would propose!
Yong Wei arranged a beautiful, romantic dinner for the couple, complete with flower petals encircling the table at the resort restaurant. In the background, soft, romantic music was playing. When he got down on one knee, Yong Wei started to tear up. Carrie was completely and utterly shocked. The answer, of course, was yes!
Eloping in Gstaad: The Little Details
Carrie and Yong Wei spent the morning getting ready for their Gstaad elopement on their own. The bride wore a stunning sweetheart neckline gown with tiny flowers embroidered across the dress.
The couple shared their first look on the balcony of their hotel and you could see the emotion in Yong Wei's eyes as he saw his bride for the first time. Then, it was time for the ceremony near Gstaad!

An intimate autumn elopement in Gstaad
What better place to say your vows than to elope in Gstaad? This lovely, stunning area in the Bernese Oberland region of the Swiss Alps makes for a special and intimate Switzerland elopement, and it's especially beautiful in autumn with the fall colors.
Carrie and Yong Wei had always dreamed of visiting Switzerland. When they contacted me, they told me they wanted to say "I Do" with a spectacular backdrop of towering mountains and a shimmering lake. I knew just the place, and I sent them some of my favorite options for a magical autumn elopement in Gstaad.
Before the ceremony, the couple told me that they see marriage as a beautiful achievement of their love and an unbreakable commitment to each other. To them, marriage means a true union where the couple become one, marking a new stage of their lives.
"We shall keep the commitment to the end of our day in this world," the couple said.
I could immediately see how in love Carrie and Yong Wei were, and it was an absolute honor to be able to conduct their ceremony. I weaved that thread of love through their ceremony:
"Is there a better feeling in the world than falling in love with the person who makes you overcome your boundaries while continuously drawing a beautiful smile on your face and in your heart? Is there something more meaningful than creating the extraordinary with someone who is always with you to support you, encourage you, and who makes you feel like the luckiest person in the world?"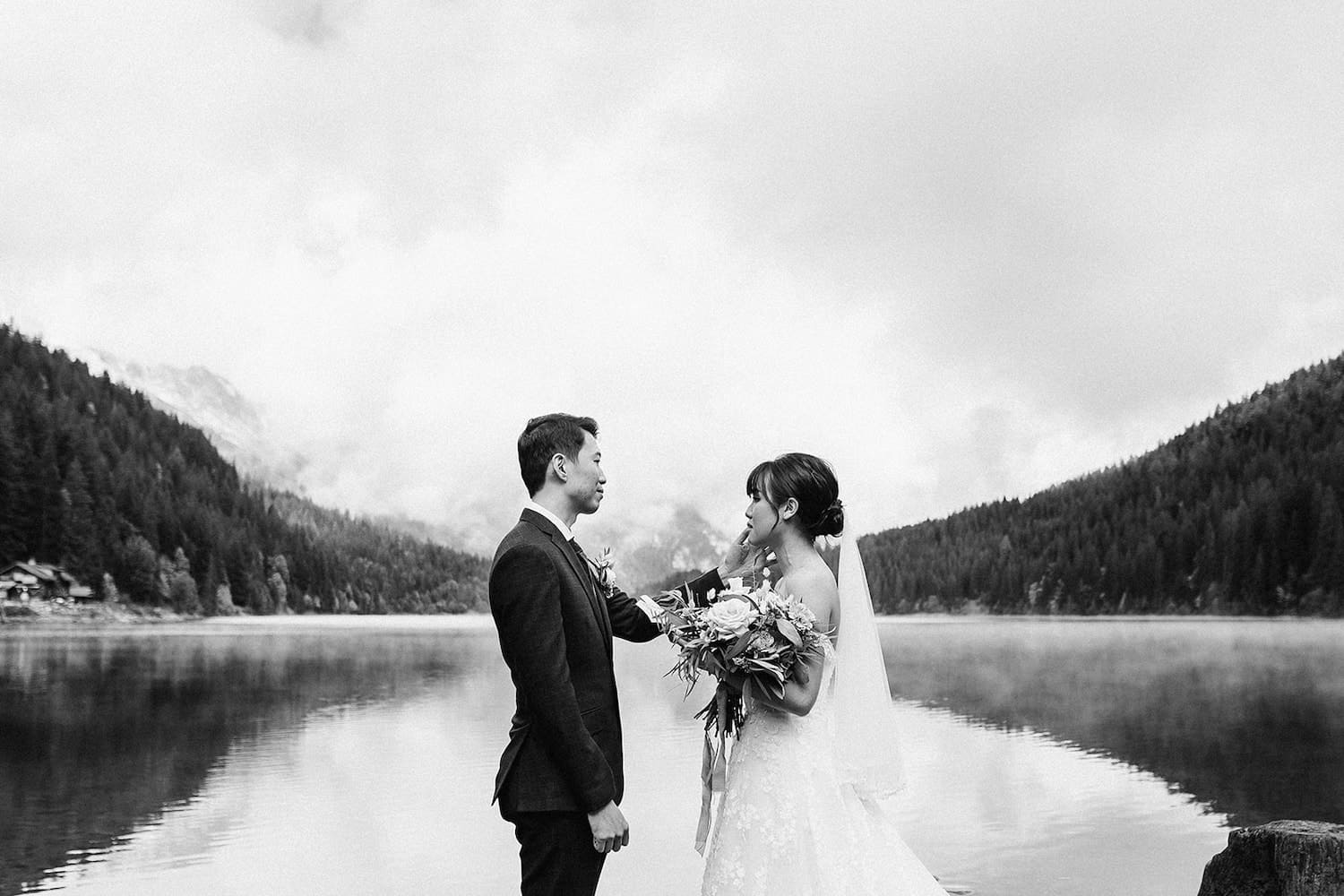 What the couple said
Hi Marylin,
We want to thank you again for hosting our elopement yesterday. Your speech is so touching and meant a lot to us. We sincerely thank you for being so lovely and appreciate your help to accommodate our requests, recommending this magical lake, collecting bouquets for us, to direct us the way, always offering help and checking in on us. You have done way, way beyond your role as a celebrant, and make our elopement a truly memorable experience. We are really glad that we have made the correct decision to engage your services (we know you're the one right after the first call!). Thank you again for everything.
Just to let you know, we went back to Arnensee again yesterday after we got changed, just because we couldn't get enough of the beauty and would like to savour the moment for a little longer, even just a little.
Your sincerely,
Yong Wei & Carrie
Thank you so much for the kind words, Carrie and Yong Wei!
Planning your own Gstaad elopement
Are you planning an intimate, special wedding ceremony or elopement in Switzerland or abroad?
Whether you have your ceremony visualized or need a little extra encouragement with planning, I can help!
My name is Marylin Rebelo, and I'm secular officiant and elopement planner based in Switzerland.
Your love story is waiting. Get in touch, and we can discuss about the different options I offer.
---
PHOTOGRAPHY - Ana Kete 
FLOWERS - Aux Fleurs de Camille 
CEREMONY CREATION & CELEBRATION - Marylin Rebelo