Time flies… It's already been exactly one year since Sara & Shane tied the knot in our amazingly beautiful Switzerland. And this is what we can absolutely call a glamorous Swiss elopement.
I remember our first Skype session for their marriage preparation. I discovered not only a gorgeous couple but above all, warm, kind and passionate lovers. The atmosphere of this first conversation was super welcoming and already made me want to talk about them and their love, endlessly.
I-JUST-COULDN'T-WAIT to know more about them and, of course, to meet them and celebrate their inspiring love story in the beautiful region of Gstaad.
"We were meant to be soulmates"
This was the obvious title of their ceremony.
After meeting in college , could Sara & Shane only imagine where life would lead them? That they would be here, now, for such a special occasion? Certainly not. This is what makes their story even more precious.
More than winning a competition within their studies, they won the most important challenge in each other's heart: their deep and sincere love for one another.
After being colleagues, friends and realizing at the same time that they were creating a magic connection, Sara & Shane simply fell for each other.
Under an oak tree
This is where Shane proposed, after finding the perfect spot for a picnic.
What a symbol… The Oak tree is one of the most loved trees in the world, and with reason. It's a symbol of strength, morale, resistance and knowledge. … Oak is often associated with honor, nobility, and wisdom.
And it's amazing to realize that these are qualities which are representative of Sara and Shane.
It is the midst of this blooming and lush nature that their commitment flourished.
Switzerland, oh my!
Sara and Shane had dreamt about visiting Switzerland for a long time, one of their bucket list highlights.
They decided to celebrate their wedding on the shores a beautiful lake in the region of Gstaad.
I will always remember my feelings when I arrived at their chosen location: pure beauty and perfection with an awesome setup created by Tabea Maria Lisa. The colours, the shapes, the style and the backdrop made me wonder if I was still in Switzerland or if I may have moved through space and time to Canada.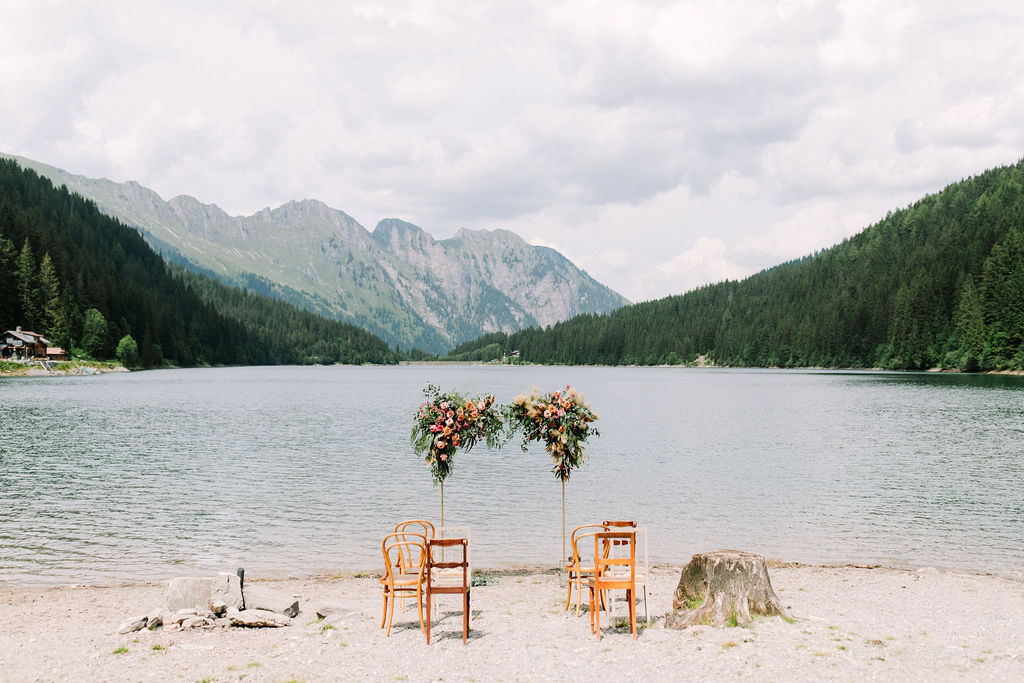 What a commitment ceremony
The ceremony was as beautiful as everything surrounding us. When Sara and Shane appeared, I felt honored and so impatient at the same time. Such a glamorous couple, enveloped by kind hearted families.
I can still feel the breeze of the air around us. I can still hear the sound of the water. I can still see all the emotion in the eyes of Sara and Shane and those of their families.
As I said during their commitment ceremony, love is kind. It always protects, always trusts, always hopes, always perseveres. Love never fails.
May Sara and Shane always keep these special words in their hearts, like the ones they wrote and expressed to each other during their marvellous exchange of vows.
What they said