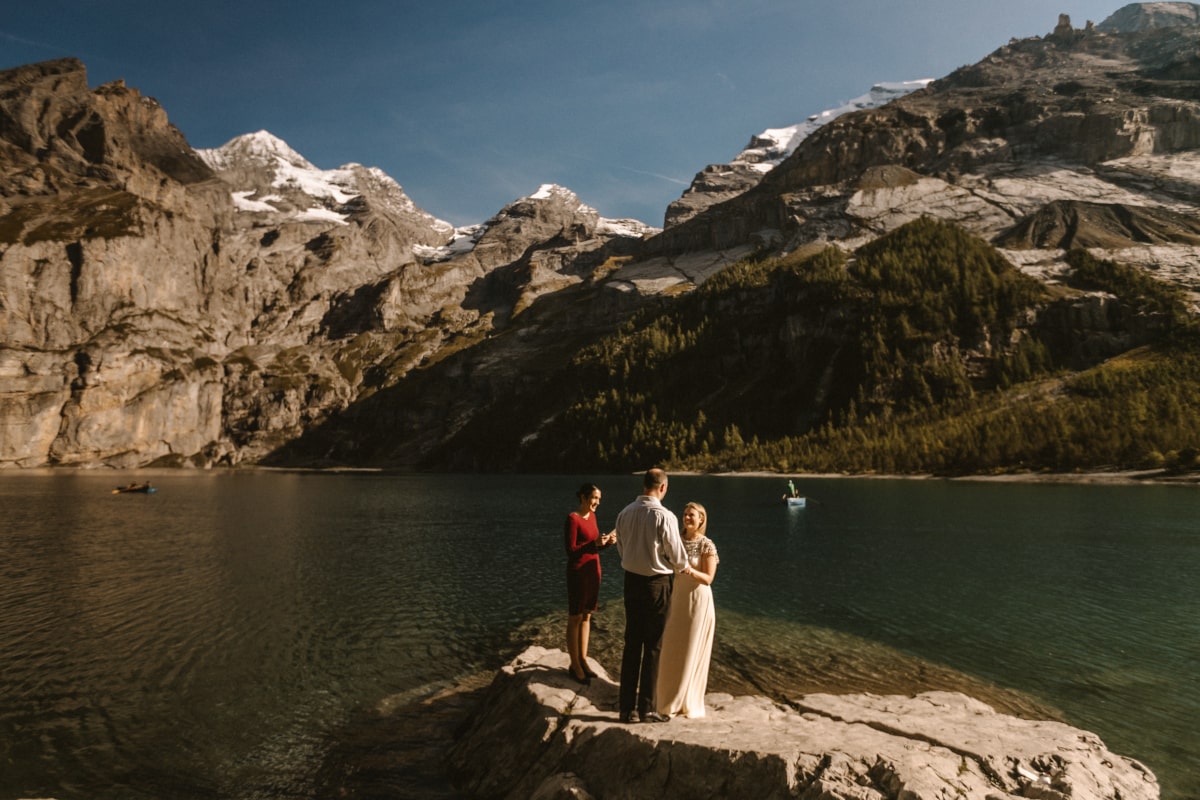 Some days mark us forever for they are the perfect embodiment of Love, Nature, and what matters most in Life. This is what we can call a pure Helvetic romance at Lake Oeschinen.
When Brittney and Peter contact me in May 2019 to celebrate their wedding ceremony in Switzerland during a very special elopement, I am already moved by their beautiful project: leaving the United States to go back to New-Zealand, their native land, and stopping by Switzerland to get married among close family members who'd fly there for the occasion. But that's not all. They plan on saying "I do" on all 5 continents, through Nepal and Morocco, before celebrating their civil marriage back home in Oceania.
A journey full of colors and love for they share the travel bug and they also respect every region of the world, having grown up among different cultures. A background for which they are most grateful and proud.
I want to make their Swiss day unforgettable, so that they can leave with the most beautiful European memory. I want this moment to be as big as the love they share for each other. Upon meeting them, I immediately could tell how strong and deep their relationship was.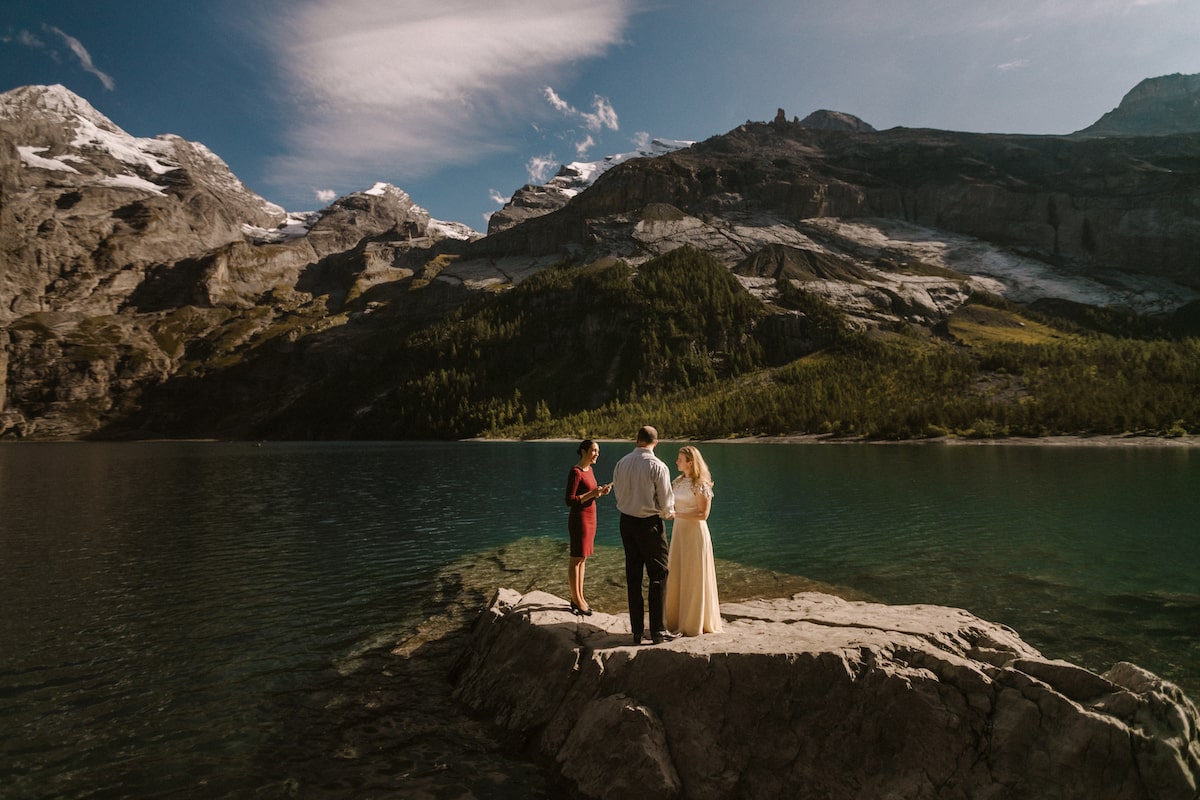 An Elopement at Lake Oeschinen
On September 27, we meet in Kandersteg and get to know each other in the gondola lift leading us to the magnificent Lake Oeschinen. Brittney's mother is here to shower the couple with all her motherly love. They are exactly as I pictured them, and the look they give each other definitely gets my creative juices flowing. I was already fueled with inspiration back when I wrote every word of their engagement ceremony.
I was lucky enough to celebrate several unions in Oeschinensee, like this one few months before. Each time the atmosphere and the colors were different. Today, the sun is shining. Everything is basked in the warmth of the autumn light that gives the lake a beautiful turquoise blue hue and the sky a deep shade of blue.
A Secluded Ceremony
I meet the photographer who finds a perfect spot for this intimate and intense ceremony. The melody made by the small waves crashing on the rocks welcomes us and gives a rhythm to our every word.
As soon as the first words are uttered, I can see Brittney and Peter's eyes well up. Soon enough, they share a simultaneous smile when I ask them to tie two small ribbons around the neck of a porcelain llama that I found as symbolic gesture for this very occasion and that they can take with them as a timeless memory of this unique day.
Why a llama? The creature is the symbol of what turned Brittney and Peter's friendship into a love story. A doctor and a great lover of literature, Peter had read an exciting story about a woman who trained llamas to help sick people in the hospital by introducing them to the power of emotional therapy through interaction with these animals.
One day when she is sick with pneumonia, Brittney receives a text message from Peter enquiring about her health. He included the picture of a llama he came across during one of his strolls (there is no coincidence…). When she realizes how worried he is about her, she understands the depth of her own love for him.
By tying their ribbons around the symbolic lama, they share their intention to always be there for each other, to protect each other no matter what happens and to forever nurture their brand of humor that embodies their relationship so well.
Taste of Adventure
I leave our lovers to let them enjoy the beauty of our mountains on the backdrop of which their love for adventure shines through particularly beautiful photographs.
On my way down, I play back the whole day in my mind, feeling all the gratitude to be a part of this extraordinary adventure.
An adventure even more precious today, exactly one year later.
Photos: Veronika Bendik