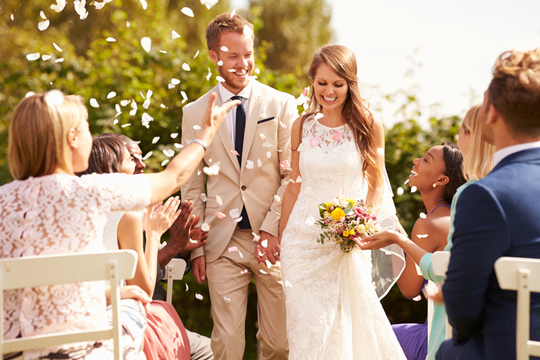 Have you heard of the "group mentality"? It only takes one or a couple individuals amidst a group to take an action for the rest of the group to want to join in. It is also called the "herd" or "mob mentality". Action calls for action. And that's a fact, people love to participate. Even more so when it's your wedding and those people love you. I can tell you, your guests will certainly be more than happy to participate in your wedding ceremony.
Even though you're currently floating in your own love bubble at this point, you still want to share this big moment with close friends and family members. Or you wouldn't have invited them, would you? And you are right. But do you know that there are different ways to interact with your guests during your secular ceremony? And that your guests can do a lot more than just look at you get married?
How, you ask?
There are many ways for your guests to partake in your celebration. You will soon find out how to make them ride with the tide. And, most of all, you will love those sharing moments that you're not about to forget.
By Having The Best Man / Maid of Honor or A Close Family Member Read A Text
If you like an author, or if a book speaks to you on a deep level or if you love the lyrics of a song, why not have one of your loved ones read a part of it? 2 pros: it doesn't require much preparation, and, for a shy person, it is easier to read an existing text out loud rather than a personally crafted speech.
If you trust them, you can also have them pick a text for you. Your officiant will make sure that the chosen text will keep in style with the tone of the ceremony.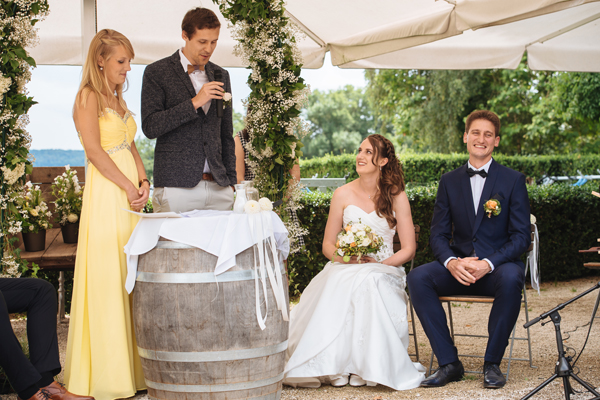 By Having Your Loved Ones Give A Speech
It is a significant responsibility and workload that will befall on the people you ask, true enough. But, from experience, I can tell you that few turn it down unless they are really uncomfortable speaking in public or if they do not have the time. Hearing loved ones give a speech for you is pure bliss. I never tire of it!
Sometimes, a few people close to your heart won't be able to attend the ceremony. The officiant or another person can read out loud the text they have written. They can also participate via Skype, thanks to the wonder that is technology!
By Taking Part In the Processional
You can select a few close friends to walk in, as a bridal procession, before you do, but you can also choose to have the entire wedding party walk down the aisle if it's not too big. It is a nice way to get everyone in the spirit.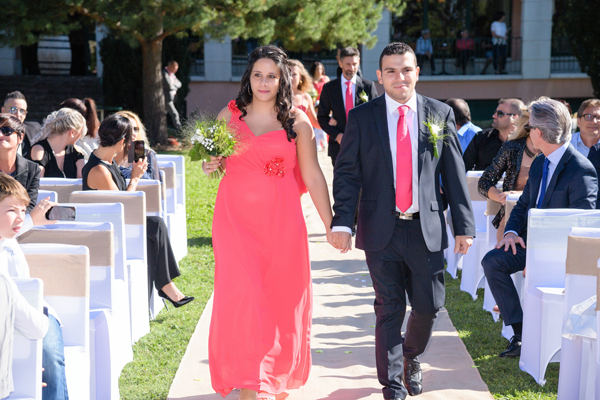 With Music
Are some of your guests, virtuosos, amateur singers or musicians? They can perform something for you! Emotions will fly high; eyes will well up. Prepare your handkerchief …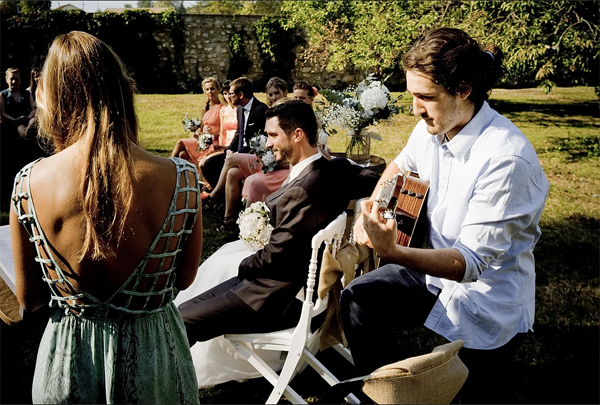 An alternative I love: have the entire wedding party sing; leave the lyrics of the song in their chair beforehand.
Do you want to take advantage of the fact that all of your friends, family and loved ones are in the same room to dedicate a song to them? Here is an option that will certainly move them. I particularly love this track by Louis Chedid, the lyrics are very beautiful and perfectly fit the occasion. It is a lovely and elegant way to interact with your guests.
By Having Them Participate in A Unity Ritual
You can ask your guests to pass along a candle, perform the ritual of the Blessing (or Wishing Stones), have a wishing tree… There are so many possibilities to choose from for your guests to leave a memorable reminder of their presence on that magical day. The best course of action would be to have a unique ritual, of course, that expresses what the ceremony means to you. It is the role of the officiant to help you with this process.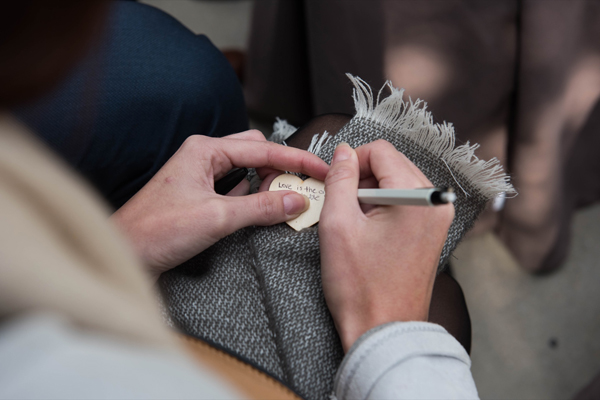 By Participating in The Recessional
If the ceremony is outdoor, your guests can participate with accessories (bubbles, confetti, etc.) when you're walking down the alley. If the ceremony is indoor, your guests can wait for you outside with the same accessories. Depending on the layout of the place, a guard of honor can also be formed.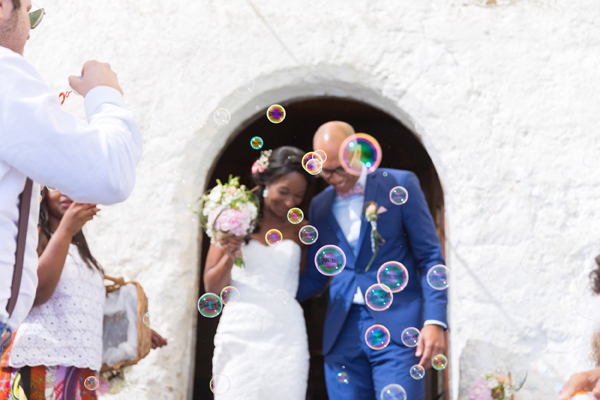 In Conclusion
I hope that one or several of these ideas can inspire you. With this article, I wanted to show you that it's not too difficult to include your guests in your ceremony and/or interact with them. They will most likely be quite flattered to be included in your big day. And remember the domino effect: the more the merrier, and that's also true for secular ceremonies!