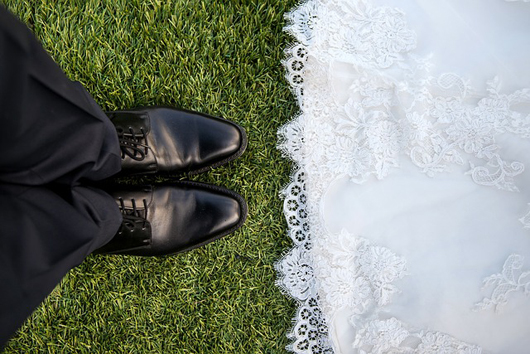 Welcome to my blog! Coach and marriage officiant, this is where I gather and publish my favorites and inspirations to introduce you to the world of symbolic wedding ceremonies. Through my experience, finds, and thoughts around this topic that has won my heart, I hope to share with you some of my passion.
For this very first post, I think it necessary to give you a definition and some explanations about the term "secular ceremony".
What's a secular ceremony?
A secular ceremony is a non-religious celebration. But it is absolutely possible to include religious elements for couples who are so inclined. Why would religious couples want a secular ceremony, you ask? Quite simply because they want to have a completely personalized ceremony, with an outline they have chosen and in a specific venue they have chosen.
Whatever your beliefs, spirituality has certainly a place of honor in such a ceremony. The religion of love is honored, which brings everyone together 😉
Usually, couples choose to have a secular ceremony on top of a civil marriage, as the latter is the only one binding by law. A secular ceremony has no legal value and neither does a religious ceremony. Some couples choose to have a civil marriage after the secular ceremony, others do not: they'd rather have the symbolic meaning of a secular ceremony without signing a contract.
Prévisualiser les modifications (ouvre un nouvel onglet)
How does a secular ceremony go?
There is so much room for creativity when you start planning a secular ceremony! The entire outline is customizable, from beginning to end. Every ceremony is different, depending on the couple and their story. A good officiant will perform a 100% personalized ceremony and will take the time to get to know the couple, to make their wishes a reality. The officiant will not hesitate to make creative proposals to create something unique.
During the ceremony, there is talk of love and only of love. The story of the newlyweds will be told, how they met and the key moments in their relationship, what binds them together, their commitment and their vision of their wedding. The newlyweds will also take an active part in the ceremony: they will exchange vows and promises, either by reading them or symbolically. They will also speak at certain key moments of the ceremony. Exchanges are possible with VIP people of the ceremony such as the best man and maid of honor, the family or, to a greater extent, the guests.
There is an endless list of possibilities: the outline of the speech, the outline of the ceremony, the choice of readings, the choice of participants, the musical selection, the meaningful rituals, and, above all, having fun on this very unique day that goes by so fast.
So, we can organize it wherever we want?
Yes, absolutely! Depending on the number of guests and the type of ceremony, you can have it pretty much anywhere. You will need an authorization from the city for certain locations. And if you plan on having an outdoor ceremony, it's always best to have a plan B with an indoor or covered alternative.
Regarding the decoration, options are, again, endless. Isn't it magical to picture yourselves saying "I do" with the backdoor of your choice, maybe even with a theme that speaks to your heart? That's the main advantage of secular ceremonies.
Here was my introduction to the wonderful journey that is creating one's wedding ceremony. Remember: YOU create the definition of your secular ceremony.
If you've decided to go for it, feel free to share your comments and testimonies on this blog. I look forward to reading you!