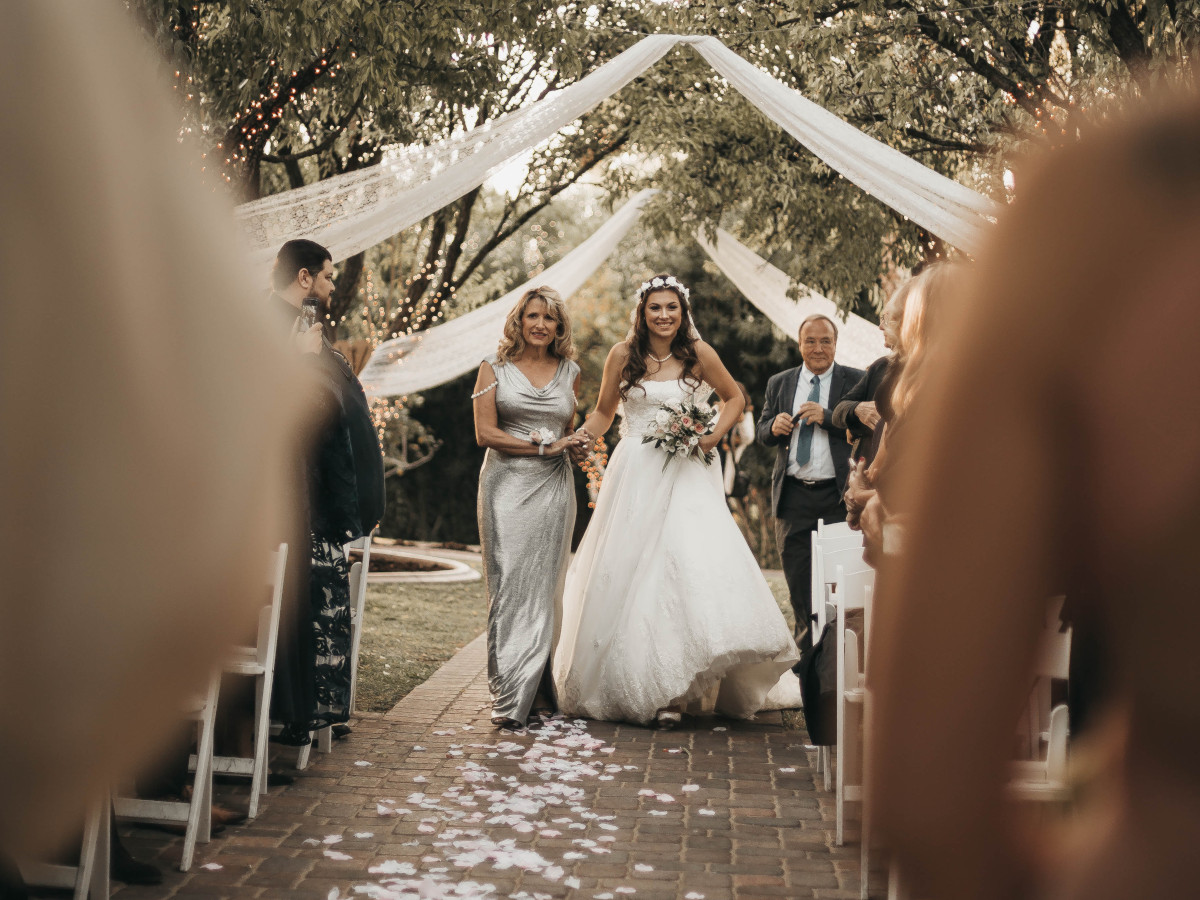 Music is an important aspect of any ceremony, especially for the grand entrance. Choosing the type of music is fun. You get to listen to various genres and artists and decide what you see yourself entering the ceremony with. However, this decision can quickly become overwhelming. There are so many choices out there, which one do you choose?
You are not limited to just one style of music, or to just one song during the entrances. You can choose as many or as little as you wish. That is one of the plus sides of having a secular ceremony. You have the option to change the music for each group that walks in, you can have something specifically for the witnesses/guests while they are being seated, something different for when the procession of children walk in, and something unique for the bride and groom. Some choose to have two different types of music for the bride and groom, and some choose to do the same type of music. It is also possible to choose two different versions of the same music for the entrance of the bride and groom; this is what my husband and I decided to do. There are endless choices, and the decision is yours – of course your celebrant will be able to give you plenty of advice and tips!
In traditional ceremonies, the bride and groom enter on softer music that is either instrumental, sung, or a combination of both. This provides a more emotional feel for the bride and groom and their loved ones. However, if a traditional ceremony is not quite the aim, then couples can choose music per their taste, whether it be Rock, Pop, Electro, or Country. However, we must keep in mind that even if the instrumentals of a song sound pleasing, the words being sung might be the contrary, so make sure to listen carefully to avoid something saddening. The important thing to remember is that a secular ceremony has no rules. It is unique and personalized to the couple, and therefore it can be as creative as one wants.
Below are 24 links to various styles of music, and hopefully they will give you some ideas for your own ceremony entrance!
Classical
Beautiful – Arrival of the Birds by The Cinematic Orchestra
I recently talked about it on my Facebook page, the beautiful entrance of Bella in Twilight – Turning Page by Sleeping at Last
Among his amazing compositions – Nuvole Bianche by Ludovico Einaudi
Jazz
Classic Strangers in the Night by Frank Sinatra
Always great to hear – Feeling Good by Nina Simone
What a Wonderful World by Louis Armstrong
Soul
Timeless – When a man loves a woman by Percy Sledge
Stand by me by Ben E. King
Let's stay together by Al Green
Blues
Great cover of Elvis the King – Can't Help Falling In Love With You by Haley Reinhart
At Last by Etta James, perfect lyrics
Different – Wonderful Tonight by Eric Clapton
Rock
Chasing Cars by Snow Patrol, a well deserved success
Timeless again – Wonderwall by Oasis
November Rain by Guns N'Roses, instrumental version
Trip Hop
For a pure moving moment – Teardrop by Massive Attack
Beautiful by Mandalay
Touching Gabriel by Lamb
Electro
For a rythmic entrance – Lose Yourself To Dance by Daftpunk
You and Me by Disclosure
Porcelain by Moby, a gem
French songs
Because this is how we see life on that big day… La Vie en Rose
Quelques Mots d'Amour, by the sorely missed Michel Berger
In English on this occasion – She by Charles Aznavour
World music
Ukulele by Israel Kamakawiwo'Ole and hisfamous Somewhere Over the Rainbow
Reggae beat with Stir It Up by Bob Marley
In the Mood For Love… Yumeji's Theme by Shigeru Umebayashi