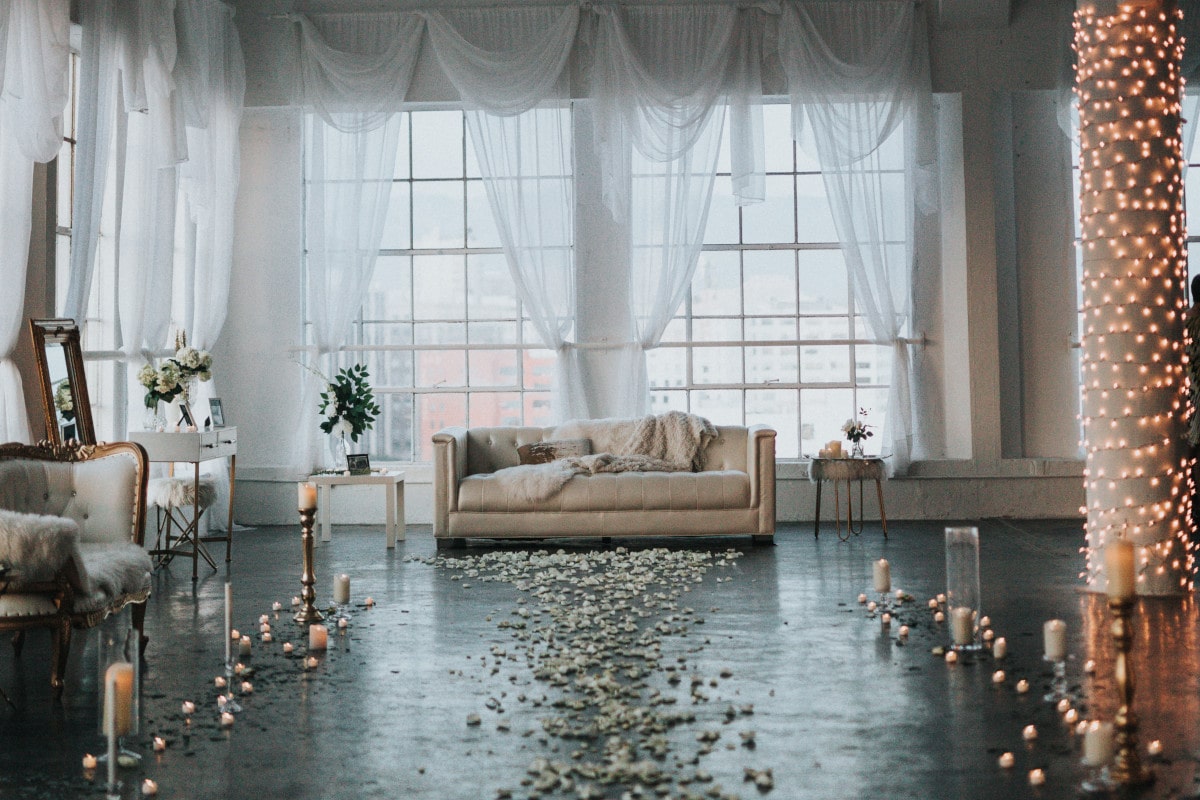 You dream of getting married outside. You picture your wedding like a fairytale. A gorgeous background, the sun which gives the right amount of light, a soft warmth to caress your face, the scent of nearby flowers, the songs of small birds flying by. I can only understand, I felt the same way when I pictured my own wedding ceremony!
But well… We live in Europe and even summer days cannot be a guarantee that an unwanted guest won't show up: rain. And sometimes this impromptu wedding guest brings along his buddies wind and cold. It is the worst nightmare of an outdoor wedding ceremony, am I right?
If you're following my advice, you already know that it's necessary to have a plan B when choosing your venue. But let's admit it, you're not too fond of plan B. And yet, you will come to see that there are definite pros to having one. And if you're leaning on the anxious side, why not simply choose a lovely indoor venue that will keep your troubles at bay? Or consider a cozy and warm ceremony in the fall or a winter wedding?
No, an indoor wedding ceremony is not a poor man's wedding ceremony. And here's why:
No to Disappointment, Yes to Serenity
It may sound obvious, but I can assure you that a ray of heavenly peace amidst the storm that are wedding preparations is more than welcome! How often did I see disappointed looks on the bride and groom's faces… because they had planned every detail for an outdoor ceremony and had to settle for an impromptu indoor ceremony. And all this because of moody weather. It is one thing to sail through the stressful tide that is your wedding day, it's another completely to feel cornered and forced to have a wedding you didn't remotely prepare for. Fortunately, there is a solution and I am here to give it to you.
Indoor Wedding Ceremony Equals Indoor Decoration
If you have an indoor wedding ceremony, it means you can go wild with the decoration. Indeed, it is often simpler to set up a room than an outdoor space. No need to invite the rude guest that is moody weather. No need to worry about her plus one, wind, showing up unannounced. You can set up lovely chairs and beautiful pieces of furniture without being scared to damage them. You can easily hang decoration and, for example, add one of the decorations I love the most when it comes to indoor weddings: a neon sign with your names or a sentence that makes sense to you.
Oh, and, a small detail that you might deem worthy of notice: your wedding dress train might go through the ordeal without a scratch!
Therefore, I suggest you have a rather significant budget for decoration if you plan an indoor ceremony. There is no need to spend an arm and a leg though, you can find a lot of simple yet charming DIY ideas. In any case, since you're going to save a lot of time not worrying if your ceremony is going to be outdoor or indoor until the very last day, this is time you'll happily use planning your ceremony decoration. And not to put too fine a point on it, if you do plan on having an outdoor ceremony, do not forget to have an extra decoration budget and help in case you need to execute your backup plan at the last minute .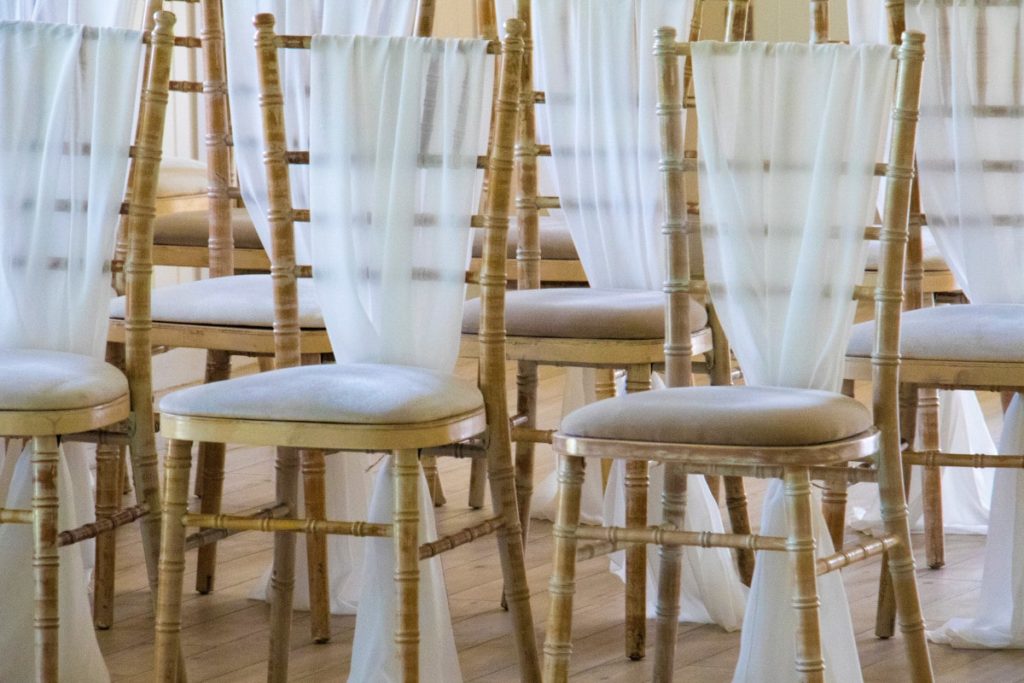 Intimate Atmosphere
I still remember this gorgeous ceremony last June that had to be moved indoor. The room was relatively small, but it was magical! Having everyone together, inside a small room lit by soothing candlelight and lanterns, with the soft musical tapping of the rain outside, made the atmosphere quite intimate and special. I don't think the atmosphere would have been quite the same outside, even though the decoration was very beautiful as well. And this intimacy, this "cocooning" spirit are features I've found in every ceremony I've celebrated inside.
Close Friends and Family Members Can Participate Remotely
Another detail, small but not insignificant if you have guests who cannot attend the ceremony. As I said in the previous article, you can have remote guests participate via a Skype-like system and a screen. And the screen will be much easier to set up in a room rather than a park.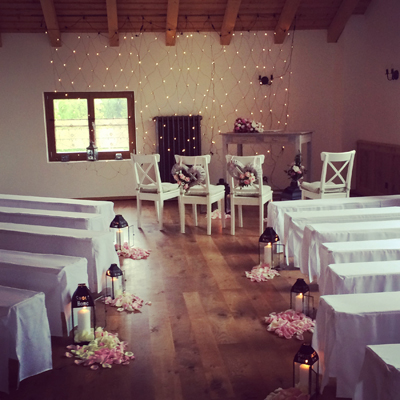 In Conclusion
So, you see, there are some lovely advantages to having an indoor wedding ceremony. Whether it is your choice or your backup plan, I strongly recommend you consider all the benefits. And even if you really had your heart set on an outdoor ceremony, do not forget that the most important part of the ceremony is the moments you are going to be with your beloved and cherished close friends and family members. Whatever your surroundings may be, no one will be able to take away the beauty and depth of these emotions