I am still emotional about it. Those precious moments spent wandering on the Internet to answer the question that came right after the proposal: "where are we going to get married?"
Before even choosing a date for your union, we'd like you to find the venue of your dreams. The venue will set the date.
From the bottom of my heart, I'd love for you to find your dream venue to get married in, because there is nothing more magical than saying "I do" in a place you picked. It is one of the great freedom permitted by a secular ceremony. And since freedom goes hand in hand with fewer limits, some steps must be taken for the ceremony to sail as smoothly as possible.
Here are 5 essential tips to take this task on:
Ponder the Style of the Wedding and Ceremony
It might seem obvious, but it's the first main step not to be overlooked. Sometimes we forget to ponder it early on. And yet, it is a crucial point to take into account at the very beginning of any wedding preparation. Once this step is done, choosing a venue will be easier.
For instance, if you dream of a princess wedding and want your photographs to have a creamy tone, I am not sure a forest or a rustic barn is the way to go.
Similarly, if you're not too fond of flower arrangement and a rather luxurious setting, you might want to avoid having the ceremony in a castle which may quickly look drab without significant decoration.
If you want a more natural, environment-friendly vibe, you might want to choose a venue close to the reception to avoid long car trips.
Etc, etc. This first point of business will already steer you closer to the right location according to the set-up and style of your wedding.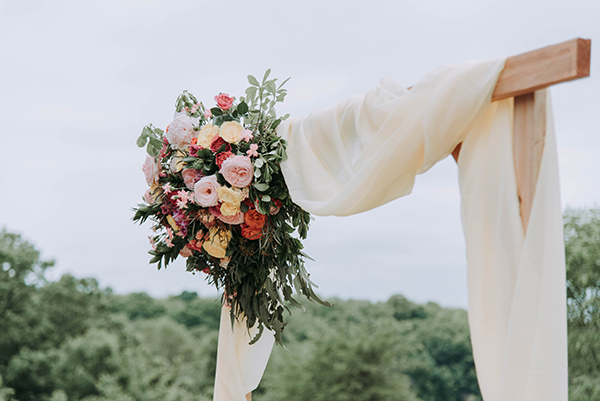 Book As Early As You Can
Recently, as I was visiting a venue, I was told they were almost fully booked until …. 2020! I realized that future spouses booked their dream venue earlier and earlier because, like with everything in life, the best things in life are taken by storm. 
From experience, few couples book their wedding more than a year in advance. Therefore, it is understandable that they shouldn't book their wedding venue two years in advance. However, it's best not to wait too long, especially if you have a specific date in mind. 
We hope to get married only once. Can you imagine choosing a venue by default for this special day?
Make Sure You Have A Solid Plan B
Like most brides and grooms who want to have a secular wedding ceremony, you picture it one way and not another. How may I phrase that… Out of the dozens of outdoor ceremonies I've carried out, very few could boast of having had perfect conditions.
If you factor in the rain, the cold, the wind, the heatwave and the noises of nearby cars (to which we never paid attention when visiting the place, did we, too overwhelmed by the beauty of the venue), your ideal scenario might know a few glitches.
Therefore, be a smart cookie and choose a GOOD plan B. What do I mean by "good"? A plan B that you are comfortable with, for starters. Because if you put all of your eggs on plan A, you might be sorely disappointed if you need to go with plan B on D day. It might even ruin your day.
Do not forget to make sure that plan B can host enough guests. And that, ideally, every one of them can be seated. On that note, it's best to check the seating capacity of both plan A and plan B.
Another major point: light. If rain is pouring outside and plan B is already fairly dim, you might want to add extra light such as candles, lanterns, etc.
No room is available at your dream location, but the outdoor space is quite large? Why not bring a beautiful tent? Nowadays, you can find very elegant models for a very intimate and friendly atmosphere.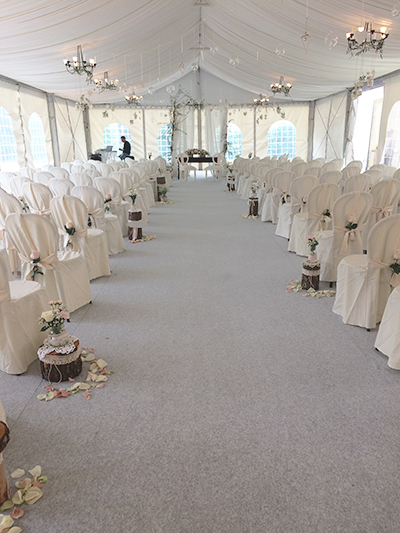 Make Sure Some Shade Can Be Provided If the Ceremony Is Outdoor
If the weather accommodates your wildest dreams for an outdoor ceremony, your number one friend can quickly become your number one feud: the sun.
As much for you that for your guests and your officiant, the sun can ruin your ceremony, especially in the event of high temperatures.
Because sitting in bright sunlight for 45 minutes to an hour, even when surrounded by loved ones, is no one's fantasy. Your guests might quickly tune out and switch off. And the atmosphere will eventually suffer.
As for you, if there is one thing you deserve that day is to fully enjoy this moment that is already fleeing away. I'm not certain that you would if you're roasting under the sun while trying to follow what the officiant is saying. It would be a terrible waste to miss what you've been preparing for months.
Think of the pictures too: nothing worse than a face in full sunlight, especially during crucial times such as the exchange of vows (the photographers among you won't argue, I'm sure).
The solution? Our friends the trees, parasols, a roof or, as previously suggested, a tent. Or, to avoid any undue stress: have an indoor wedding ceremony.
Know About the Electrical Set-up at Hand
As I have already mentioned in this blog, music is an integral part of a ceremony. Unless you pick acoustic musicians, you will need to have an electrical supply nearby.
If no electrical supply is nearby or if you're having your ceremony in a field, a meadow, or any such location, you can use a generator, provided you hire a professional who knows how to know it perfectly so as to not be audible during the ceremony but still perfectly functioning from a remote location.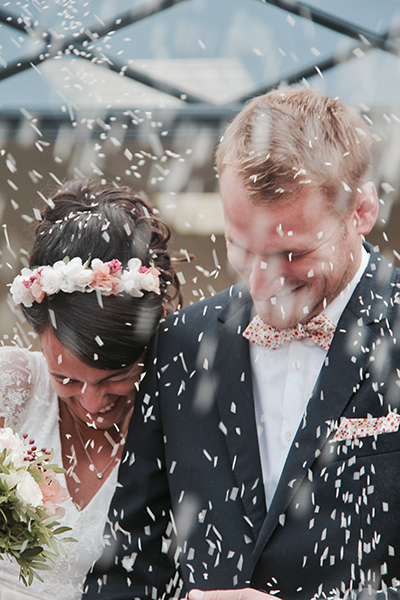 In conclusion
I hope that these advices can make you look at your wedding preparations with a calmer outlook. It is a rare occurrence to have the perfect venue that meets every single criterion. Compromises are sometimes necessary. Do not hesitate to visit several locations, even those looking less attractive in photographs. A beautiful surprise may be right around the corner… Also consider searching within a fairly large radius. You might want to do the extra mile for the extra venue.