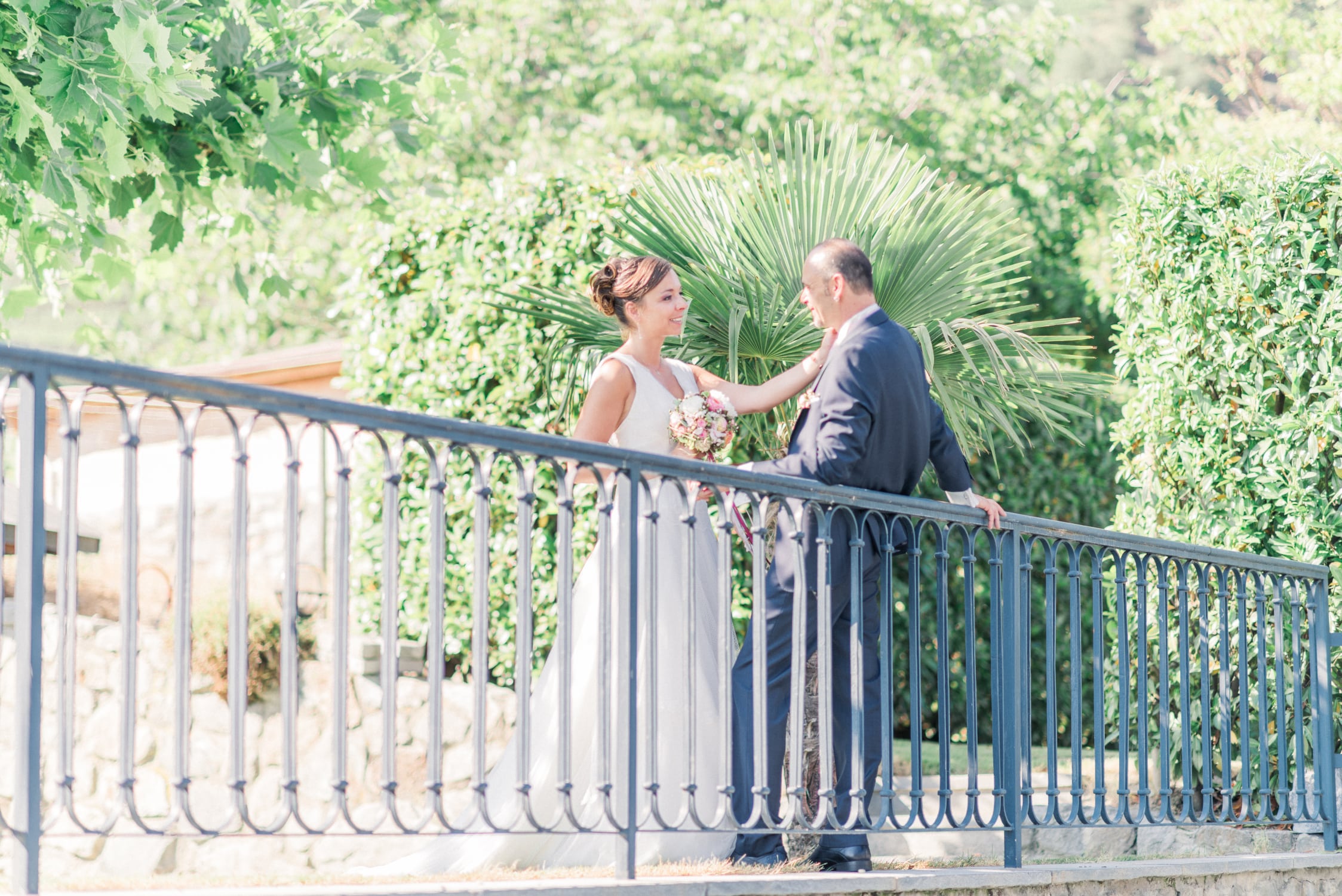 I often say that poetry is everywhere. There is so much beauty that influences creativity, it only takes looking at the little things in our daily lives. And then, once upon a time, you meet a couple that embodies a poem. Accompanying and guiding them is a powerful source of inspiration as well as an honor.
When I first met Sylvie and Michael, we instantly clicked. A connection was made that sent shivers of joy and emotion through my spine. I could already picture every joy and emotion we would share together.
When I look into their eyes, I can see all that they've lived through, all the love and desire that burn inside them. I know that this marriage preparation experience will be one of a kind.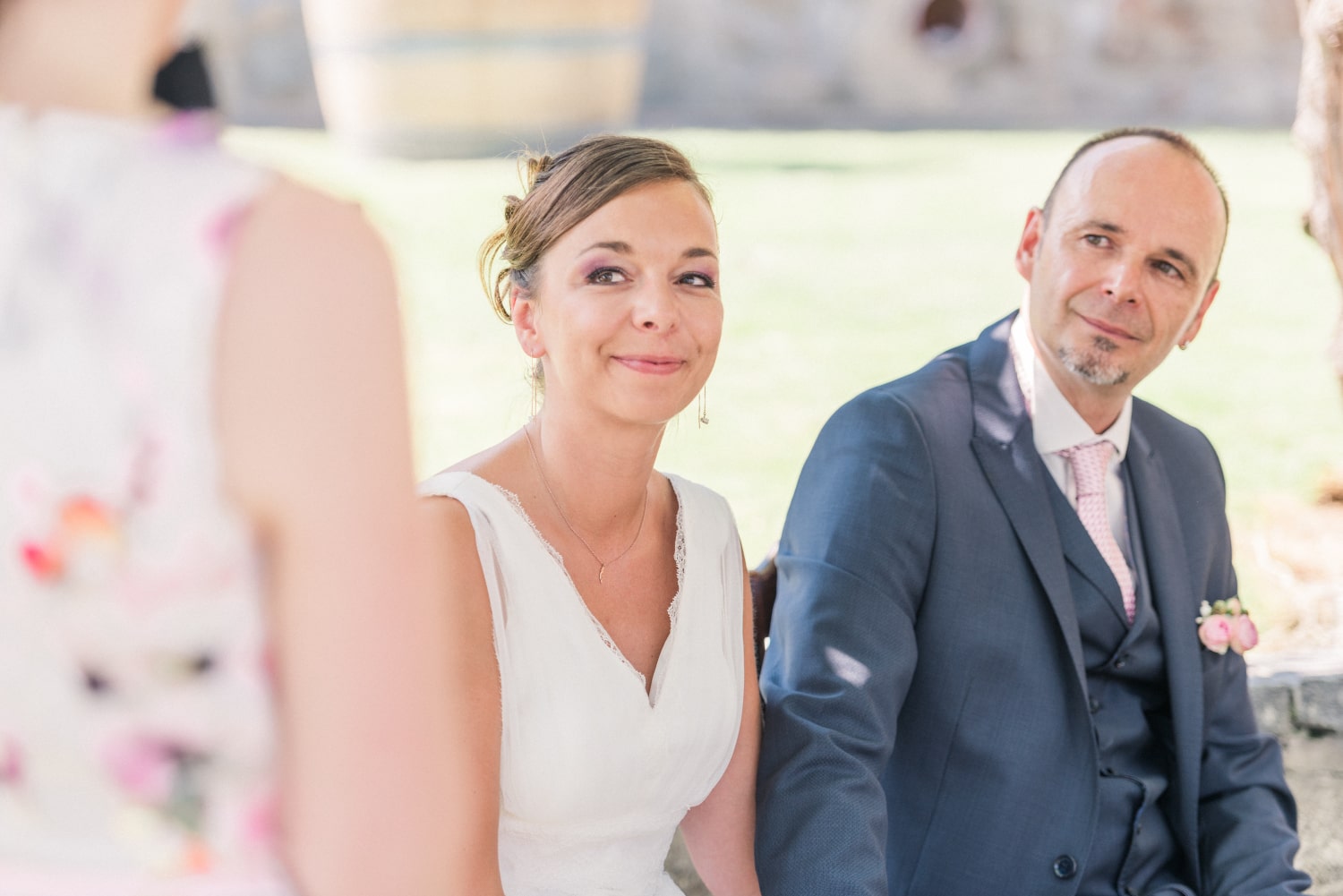 Their Story
Before they fell in love with each other, Sylvie and Michael had such a zest for Life and for the beautiful things that Life had to offer. It makes all the sense in the world that their passion should be born where all lively and spirited people meet, in the middle of a wine tasting.
Their love is built on that shared curiosity for all that surrounds them as well as their common passion for discovering new things: countries, cultures, adventures and, above all else, themselves. Each with the soul of an artist, each in a different area but both complementary nonetheless.
They admire and respect each other, they gift a part of themselves to each other. They have truly found each other.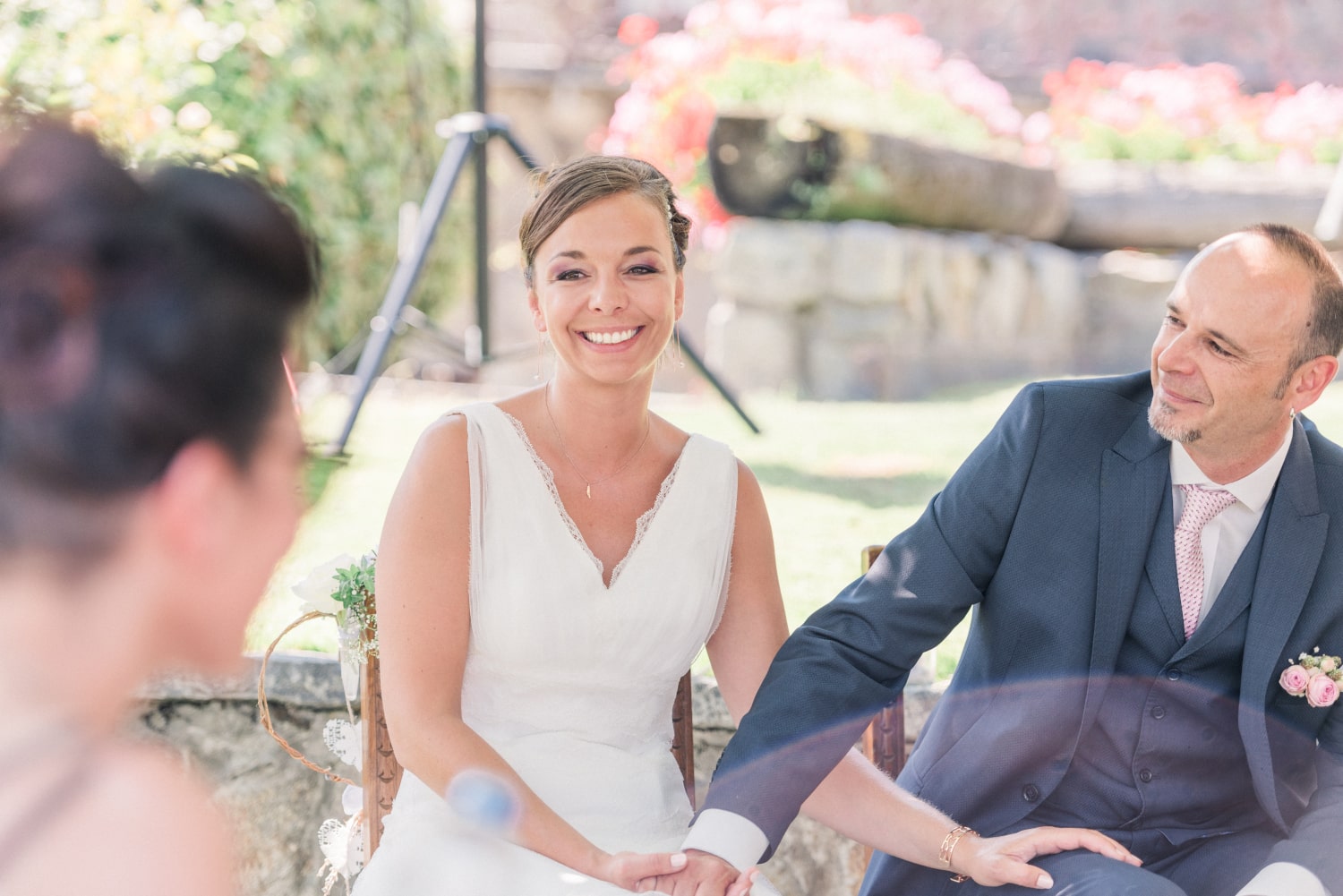 Our Preparations
It is with the utmost trust mixed with a touching restraint that Sylvie and Michael share about themselves with me. I am confident that they will love opening up to each other in a new and different way during their marriage preparation. Committed and excited, they are looking forward to walking upon this unique path with me/alongside me, until we can celebrate their commitment.
The messages they send me always make me smile and inspire me. Every meeting is a moment of openness, happiness and, as I had predicted, of poetry. They already have ideas which they are excited to see bloom during this co-creation, whilst still keeping an open mind to my propositions.
Michael loves to write and play with words; Sylvie can recognize and appreciate fine writing. It is a personal challenge to surprise them and move them with my own words…
The thread of their ceremony appears rapidly in the shape of a pretty tale, harmoniously combining narration, music, speech and playful nods to their common passion: the art of gastronomy. A preparation which is designed exclusively for them.
I meet with close friends and family who will take part in the ceremony. I coach our bride and groom to be with the writing of their vows in a most original manner which fits them completely. Then… I imagine, I think, I see, I feel and I write.
The ceremony in Wallis
On the very last Saturday of June 2018, Valais welcome us with its heat wave.
Upon my arrival on the location, I look upon a gorgeous pergola through which a very nice little breeze goes among climbing vines. But, above all, I am utterly charmed by the incredibly elegant and well-thought-of decoration: gorgeous dreamcatchers that swing in the wind, elegant floral arrangements and a white veil covering the woody frame, gracing us with a delightfully light arch. A little corner of paradise with a bird's eye-view of the surrounding valley and mountains.
Once again, I realize how much care and commitment our future spouses have brought to this unforgettable day. Poetry, again and always…
A Highly Emotional Celebration
The ceremony entrance tells us that the day will be filled with emotions: the spouses' parents and best men dance to the rhythm of Ho Hey by Lumineers, followed by Michael and his daughter dancing to the track of Candy by Paolo Nutini. Sylvie appears from afar with her dad and throats close up as Michael's amazed and moved gaze falls upon his beloved. At Last by Etta James echoes in the smooth voice of the singer who will be the musical host of the event. The tone is set, there won't be a dry eye today
It is with a beating heart that I start the celebration. I see happy faces with emotions piercing through. An atmosphere full of emotions.
The bride and groom to be follow up and share a few words of gratitude with their best man and maid of honor, whom they've been friends with for a very long time. They then retaliate with ever-so kind and sincere speeches. A moment of shared beauty.
To the rhythm of the newlyweds' tale which I share with the guests, family ties strengthen with strong testimonies full of meanings and feelings.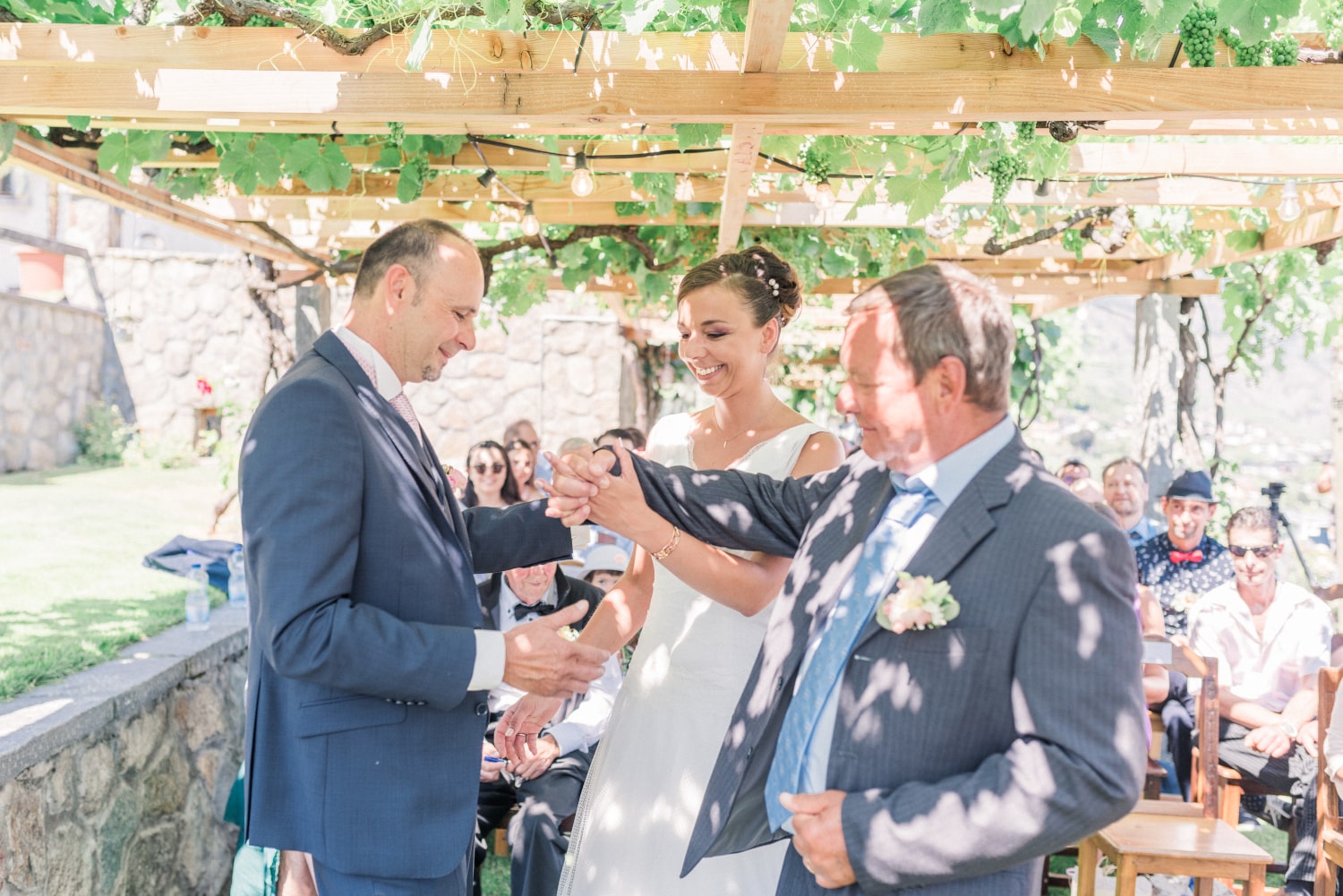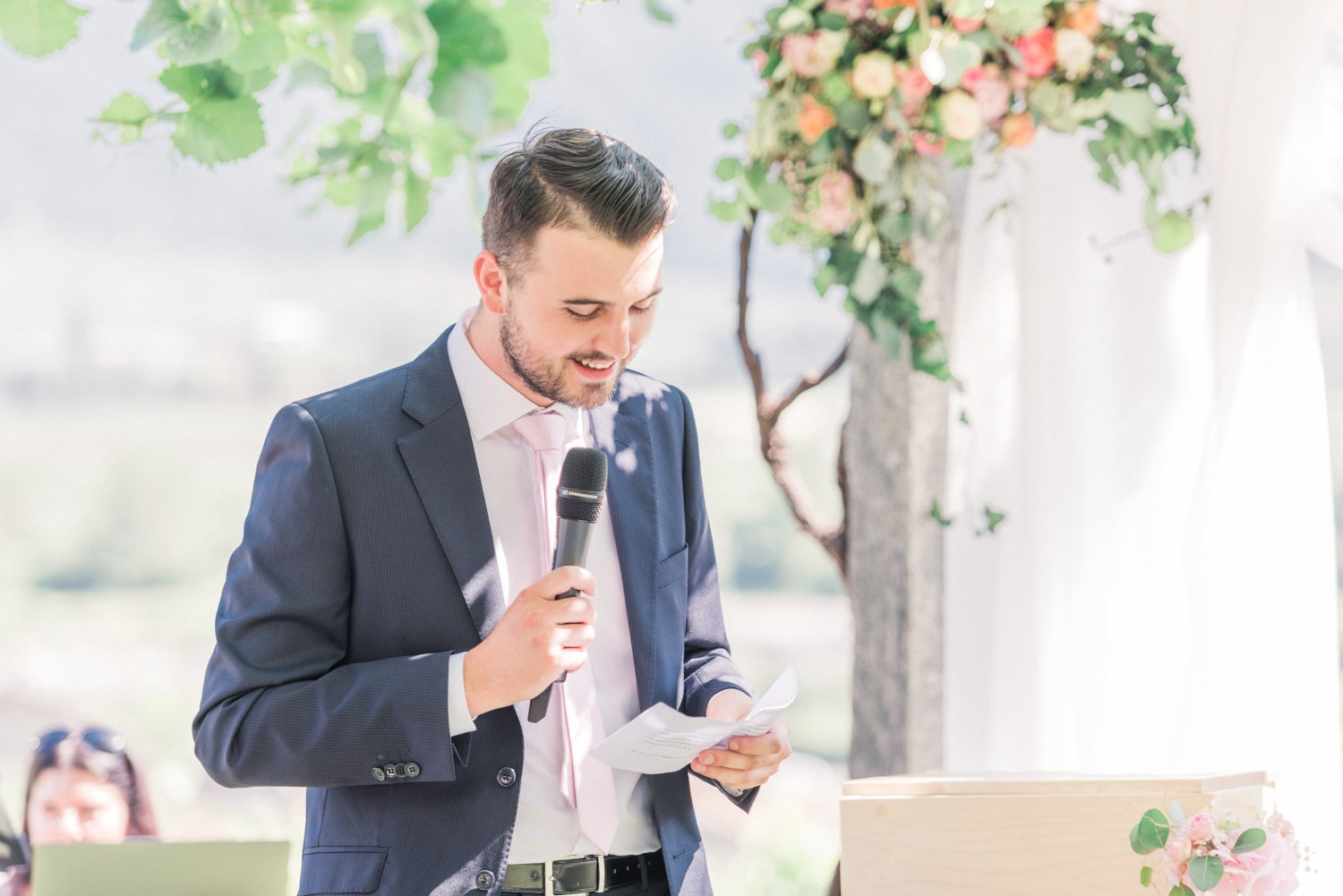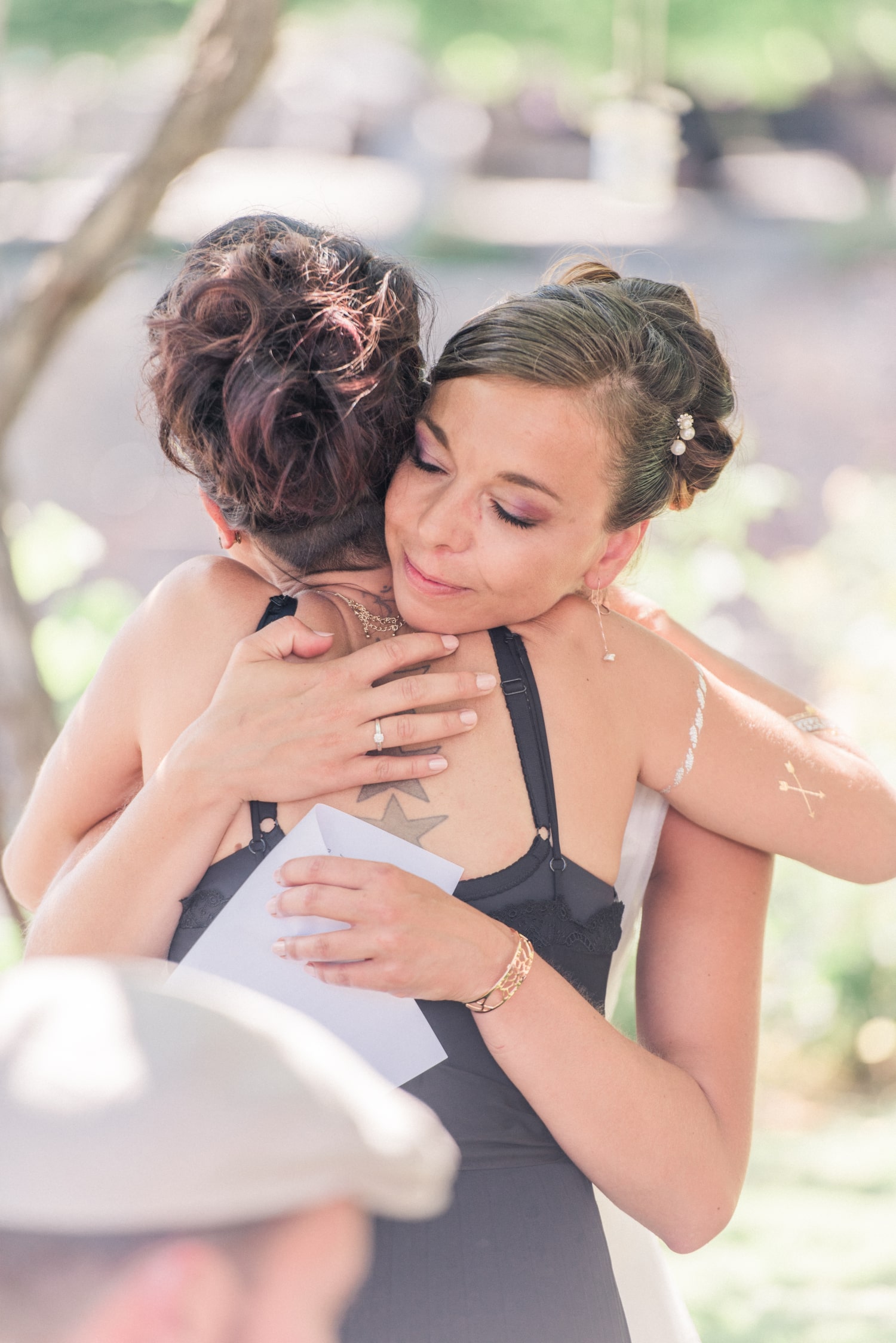 Very Personal Symbols
In honor of the party where they met, a wooden box with a bottle of wine sits proudly on a barrel, next to me, which serves as a table. Each one of the happy couple's close friends comes closer to fill the box with love and small thoughtful messages that Sylvie and Michael will discover, 10 years from now, when they open the box and drink the precious nectar. An acoustic version of Hotel California by the Eagles lulls us all…
The exchange of vows stirs emotions deep inside us all. The exchange of rings, to the track of Je te promets by Johnny Halliday, touches each and everyone of us. When words fail, music prevails…
The time of communion is perfect for every person present to share in the culinary art that our happy couple adores so, sharing with them unique recipes of love and happiness.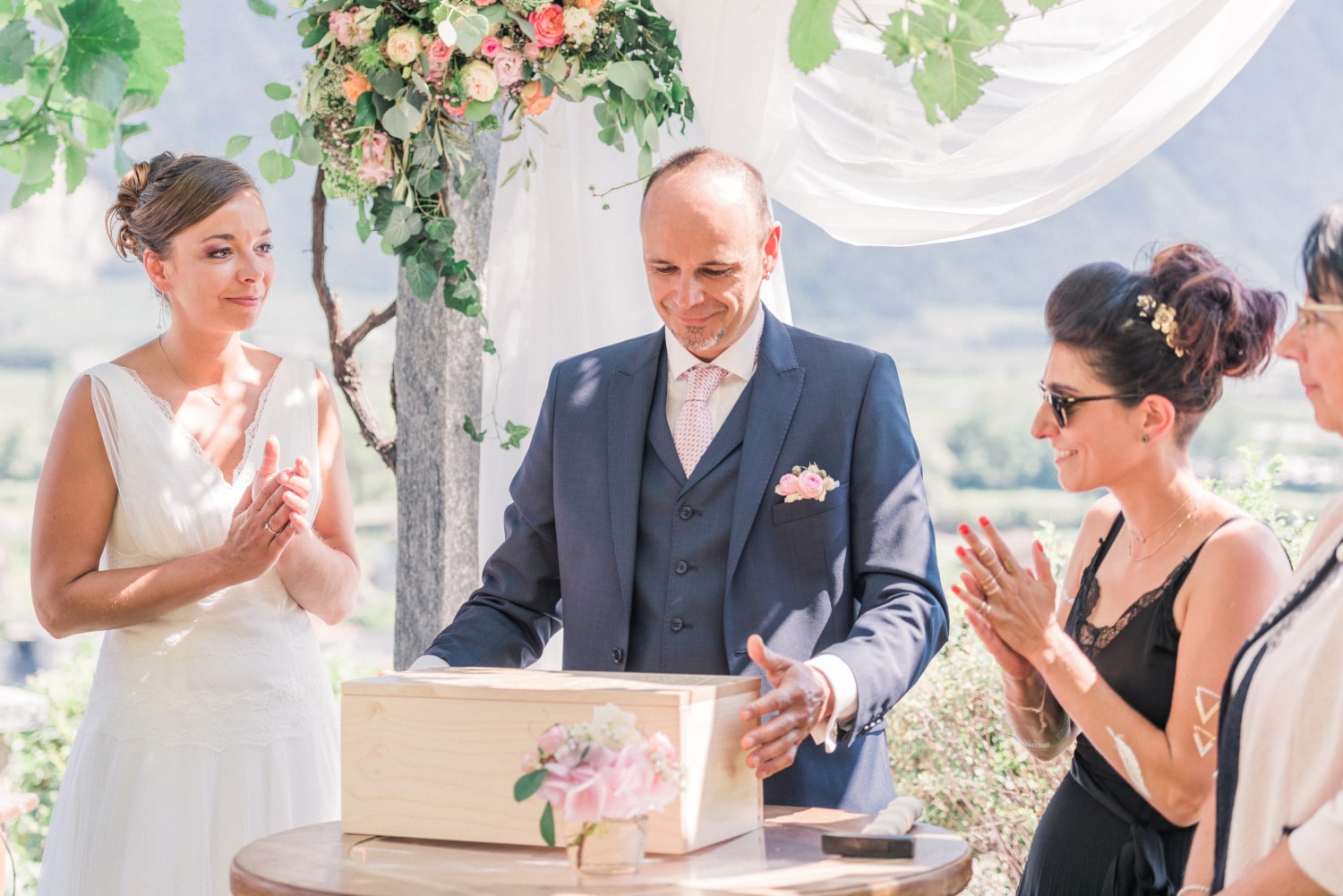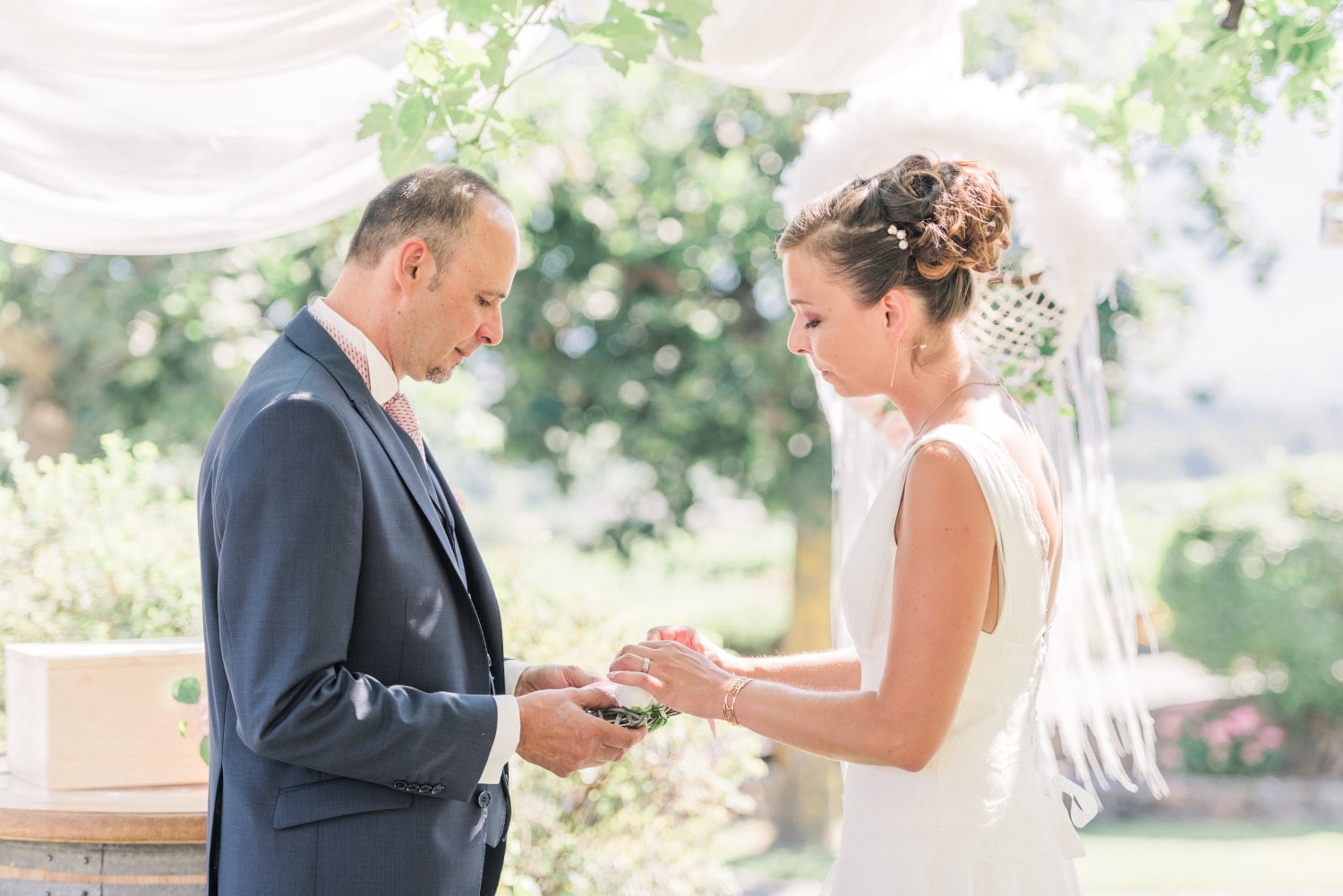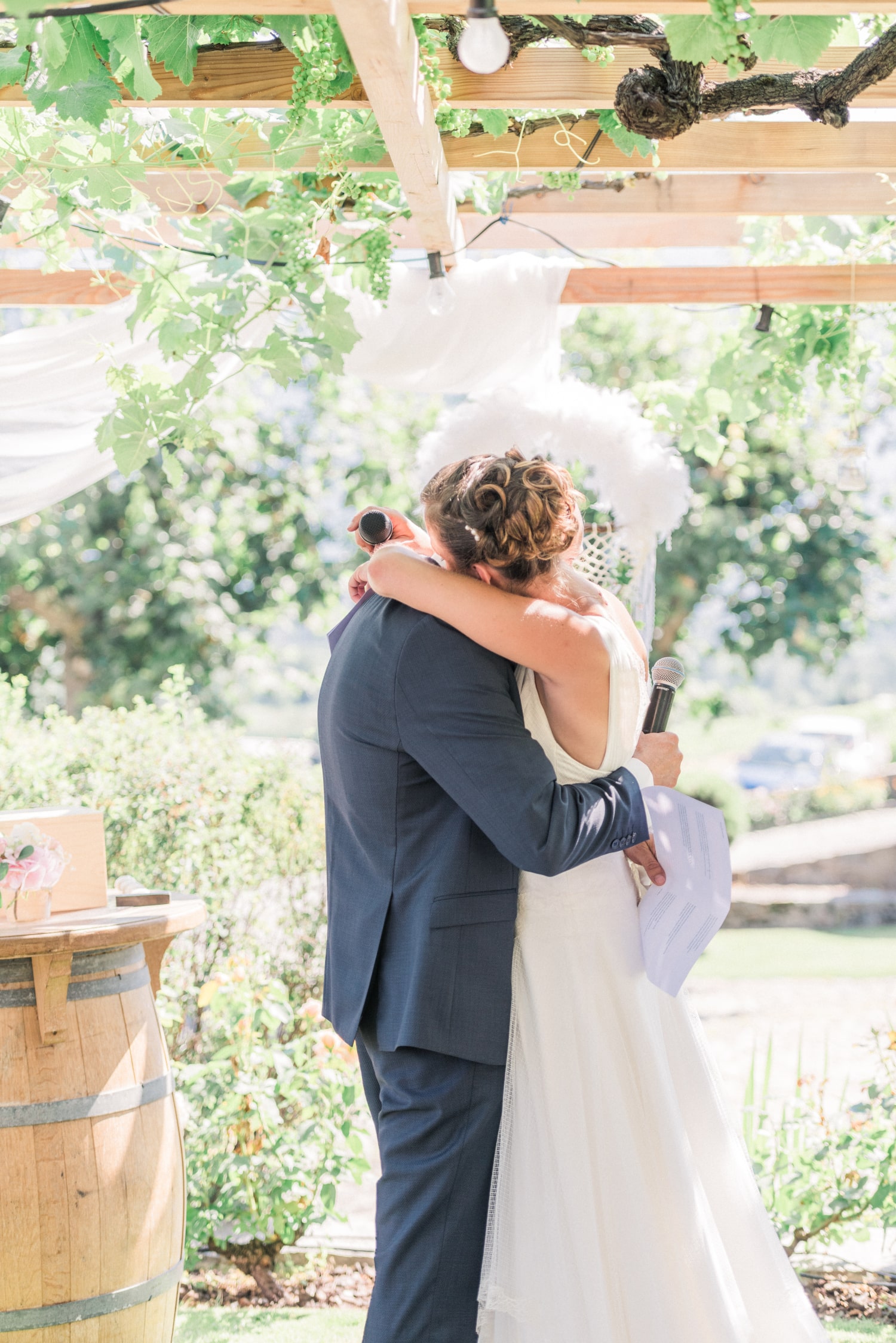 Towards a Bright Future
Sylvie and Michel take the floor again to conclude this ceremony and give their thanks to their close friends and family. I can feel my heart bursting as they grace me with a small speech as touching as it is unexpected.
This last speech ends with the sound of Stand by me but, most of all, with the sound of Sylvie and Michael's glasses clinking to their future. We are confident that it will be as bright as this grand moment.
Dancing, sharing, listening to music and hugging: what happens next is filled to the brim with joy and, above all, generosity, the key word of this day.