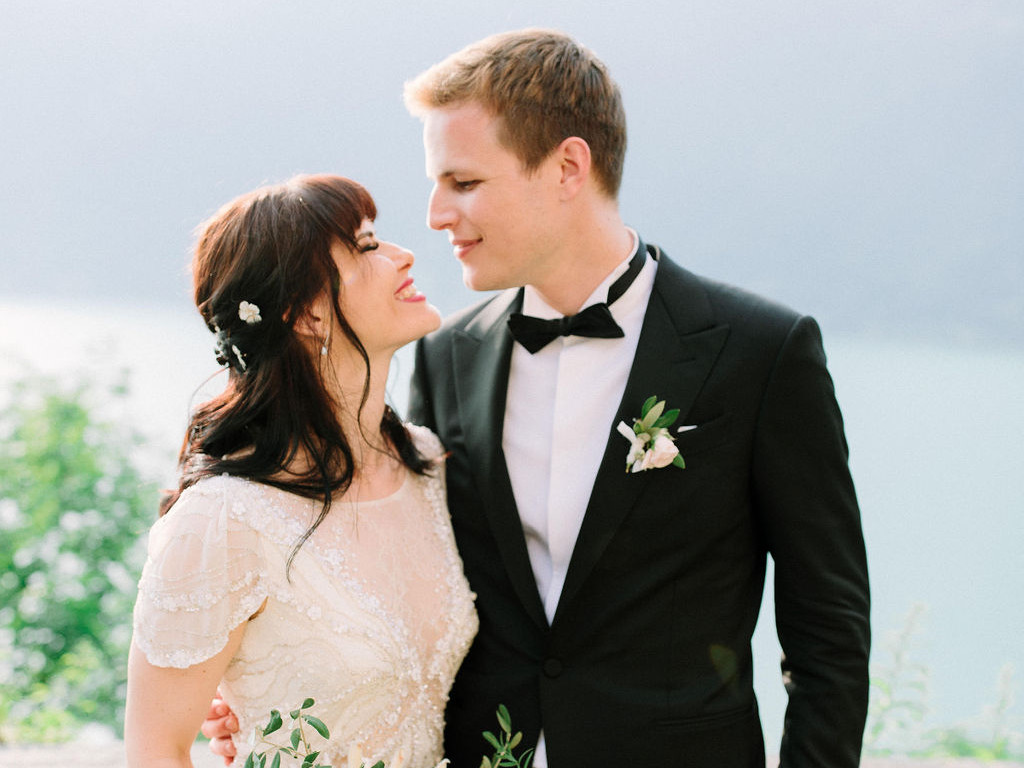 Why we chose you
You were recommended by Laura Dova and although we talked to someone else, we knew right after the video chat that we will go with you. It was a gut decision as we just felt a strong connection with you and it just felt right.
The preps
The journey with you has truly been an emotional one - in a good way. What really touched us is that your process made us to think about questions we wouldn't have normally had to think about. It wasn't just the simple things such as what we like about each other, but also thinking about specific moments in our relationship that were formative was very touching. Our journey together really brought us together and helped us define what our relationship is really about.
The pace was perfect. Although at first it seemed strange to start 9 months before the wedding, we really needed that time. We felt it was great to start with this emotional part of the preparations a bit earlier because as you get closer to the wedding, your life will be taken over by logistics, guest problems, and minor details and it's harder to think about deep relational questions.
Your guidance was great and very well thought through. We appreciated your patience and occasional reminders to keep us focused when professional life took over.
Our ceremony
The ceremony was just absolutely beautiful and exceeded our expectations. Our destination wedding in Switzerland felt like a fairly tale.
You gave us a choice to either read the transcript beforehand or let ourselves be surprised on the big day. We chose to have it be a surprise and we don't regret it for a single moment. It was so emotional and touching and we would definitely recommend other couples to do the same.
We also thought it was a great idea that you pushed us to include family members and friends as speakers during the ceremony. It was so special and added a very personal touch.
We loved the way you set up the part with the personal symbolic ritual. That was definitely the most emotional part of the ceremony, just hearing about what you thought are the values that bind us together and also some of the things we told you in our private questionnaires in which we wrote about the other person.
We only heard positive things about the ceremony. People thought it was beautiful and touching. Even the people who are not used to the concept of a symbolic ceremony were positively surprised.
Impact of this marriage preparation
The marriage preparation process definitely brought us closer together. Although we knew that we loved each other, it was hard to spell out exactly why and our journey together helped us explore and clarify that.
We have a much better understanding now about the values on which our relationship is built.
The process also helped us see the role our friends and family have played in our journey and we believe we grew much closer to them as a consequence of our wedding.
What our collaboration has brought us most
We loved our video chats together. They were often quite emotional and it was not uncommon to shed some tears during those chats.
We also loved your gentle and warm personality, which helped us open up about our story.
Who we recommend your guidance to
We think there's no couple that wouldn't benefit from your service. However, couples should be willing and able to invest enough time and energy into the process to do things properly as only then the real beauty of what you offer can shine!
Thank you again for putting together a truly special ceremony and for helping us grow closer together. We will always look back at our time with you with fond memories!
Photo credit: David & Kathrin